This week I decided to test my cooking skills and make lasagna for supper. I followed my Moms ingredients list and cooking instructions. I was excited (and a bit nervous) to try a complex recipe with multiple steps. Here is an outline of the steps and ingredients I used!
Cooking steps:
Fry the 2 packages of ground chicken on medium heat until thoroughly cooked. Add the pasta sauce, stir, and then turn off the heat. In a mixing bowl, crack an egg, and stir in the container of cottage cheese and 1 cup of shredded mozzarella cheese. In a 11×13 baking pan, spoon in half of the ground chicken and pasta mixture, top with lasagna noodles. Put the cheese mixture on top of the noodles and spread evenly. Add another level of noodles and then chicken and pasta sauce. Sprinkle a half cup of mozzarella cheese on top. Cover with tin foil and bake in a 350 degree oven for 1 hour.
Ingredients List:
2 packages of ground chicken
1 litre of seasoned pasta sauce
500 grams of cottage cheese
1 1/2 cup of mozzarella cheese
1 box of express lasagna noodles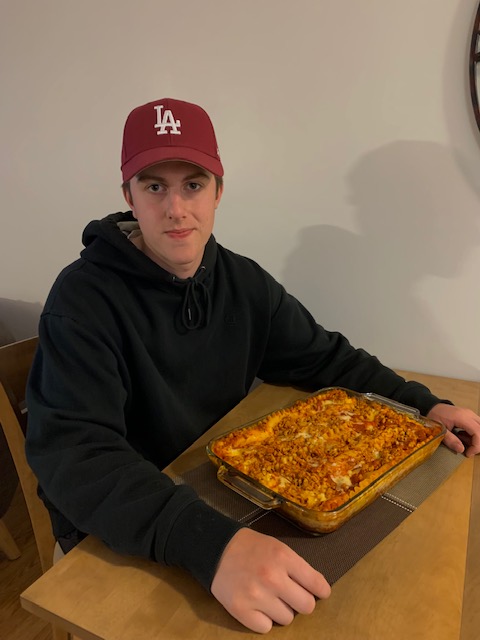 Reflection:
My lasagna turned out well! This was by far the largest thing I have made and I am glad that it did not burn. I was worried that I may have messed up mixing some of the ingredients but the final product tasted just like how my Mom makes it which was encouraging. I think my confidence in my cooking ability is growing as I try more complex foods. I rely on recipes and guidance from online resources (such as YouTube videos and articles) to make sure I have all my ingredients and tools correctly set up before beginning to cook. I have been taking photos of myself with my final product as displayed in my posts. I think this has been a great way to display how my food has turned out, as well as document my progress week to week. Using images in my blog posts has been a great (and simple) way to make my blog more visually appealing! I am now looking forward to next weeks cooking challenge and trying a new form of technology to document my progress!
Credit for cover photo: alleksana via Pexels