I have come to the end of my maiden voyage into a social media/technology focused class. Way (well, maybe not that far) back in September, I expressed my ambivalence and some of my grievances and hesitancies towards social media and tech. While those still exist, I think it is fair to say my thinking and openness to these platforms is evolving and expanding. I must give props to both my classmates and to our professor, Alec Couros. This was my eighth Masters course, and I really appreciated Alec's approach to the class. He allowed us to embark on our own journeys, allowing us to make our learning meaningful and engaging. I am hoping to get into Alec's class in the Winter semester of 2022. I am currently stuck at #3 on the waitlist. Here's hoping I move up and secure a spot in the next few weeks.
I began the course thinking I was going to do a joint learning project with Lynnette Farris. We had planned to do some connecting with our classrooms using Flipgrid. Unfortunately, we struggled to get our feet underneath us and get the project off the ground. This turned out for the best, as Lynnette was awarded a Vice-principalship and moved schools only a few weeks later. While I shifted the focus of my major project, I have continued to explore using Flipgrid in my classroom. It is very easy to use and the kids seem to really like it. I know I have barely scratched the surface of what Flipgrid can do. I look forward to checking out some of the more specialized features and incorporating them into my teaching.
The focus of my project switched to a more personal goal. For some time I have been thinking about losing a little bit of weight. As I am very active, eat fairly healthy, and wouldn't be considered overweight, I never made this a serious priority in my life. This project gave me the opportunity and motivation to finally set a goal and work towards it. With the inclusion of social media and technology, I developed a solid plan for my journey.
The main tool I used for my plan was the myfitnesspal app. I used this app to track caloric intake and expenditure. I must say, this app is well set-up and very easy to use and navigate.
The dashboard is set-up with the important menu items. The Food and Exercise menus are the two most used. Once in them, it is easy to add food and exercise. The food library has a huge selection of foods, with very accurate nutritional information. If I had one major criticism, it would be having to make conversions of measurement units. Most entries are in American terms that do not apply to Canadian food labels. Small issue in the grand scheme of things, but an issue nonetheless. More strengths and weaknesses can be found here.
As you enter food throughout the day, the app gives you a snapshot of your daily numbers. This allows you to see how many more calories you can consume in a day to meet your targets to achieve your goal. You can also go in-depth looking at different nutrients.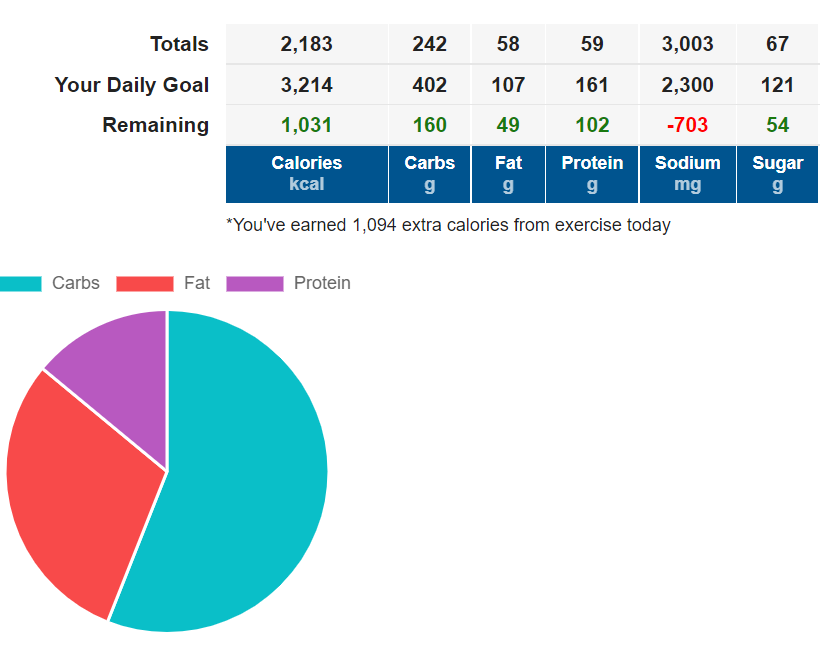 To help with the exercise portion of my plan, I used a number of Youtube channels. Jordan Yeoh Fitness was my favorite channel. He offers a variety of body weight workouts. I enjoyed them because he works in 30-40sec:10-15sec rest intervals. He also includes a wide variety of exercises in each workout. These workouts helped to stave off my boredom over time. While these workouts focused on strength and body composition, I continued to run and cycle to include a cardio component. I would recommend GCN Training if you are interested in spin. Towards the end of my plan I also began doing some kettle bell workouts. I mainly used the following video because it was short and at a beginners level: 10 Minute Kettlebell Workout for an efficient Total Body Workout.
Using these apps and tools, I was able to experience great success with my project. I met my initial goal well ahead of schedule and was able to set and work towards a new goal. While my progress has slowed, I have shifted to a more maintenance based plan. I also tried some weeks without using the apps to see if I had formed some good habits and lifestyle changes. Positively, I was able to continue losing weight (although slower) without tracking my caloric intake and expenditure. I consider this huge success as it shows I have a good understanding of what and how much I need to eat to maintain my current weight. This should set me up for continued success in the future.
I consider my time in EC&I 831 to be a success. I appreciated the opportunity to work toward a personal goal that was meaningful to me. I also appreciated the community aspect of the course. Receiving feedback and seeing others ideas inspired and motivated me. There are so many things I can move forward with personally and professionally because of what I learned from my peers. My thinking has been challenged, my mind has been opened, and I have experienced personal growth. What more could you ask for from a Masters course?