First thoughts of the term online/blended learning…
Completely intimidating and overwhelming! However, my first experience with online learning was also during a period of uncertainty and panic as the global pandemic started. Which did not help!
In March 2020 when the students were sent home and I was advised to set up an online learning program for my students, I truly had no clue where to begin.
From the start we were faced with many physical challenges. The students and families that I work with have little access to technology, transportation, and some with funds for life's simple necessities. Some do not speak fluent English so simply communicating was hard.
Stress Levels were high!
I ended up providing paper packages to my families, I used SeeSaw to post online learning activities, both of which were accompanied by zoom meetings to work the workbooks together. As you can probably guess by the barriers above, it was very challenging for students to participate. There were days where no one showed up to the zoom meetings, most online activities went untouched and I received a total of 6 paper packages back over the course of 4 months.
My first experience with online learning was not the most positive. To be honest it was quite negative…
Online learning felt nearly impossible and unfair to the demographic I was working with.
Luckily the pandemic didn't end, and I got a second chance at online teaching in December 2020. (I hope you can hear the sarcasm in that sentence!)
This time it went much smoother. We had a little bit of time to prepare, pre-teach some of the online tools and families were more prepared for what was to come. Contacting families seemed much easier, I had a lot more participation with my online activities and zoom meets! I also became a lot more familiar with the programs I could use such as google slides, classrooms and the other tools available on SeeSaw.
Although participation was better… it felt extremely unfair to those who did not have access or support to retrieve the learning opportunities.
Not to mention, it just is not the same as in class learning. A huge part of grade ½ is the social aspect, teamwork, cooperation, problem solving, play and simply just talking! It was very hard to work this into my online learning schedule as everyone was just still becoming familiar with the technology.
I think that will always be a difficult aspect to translate online to young students.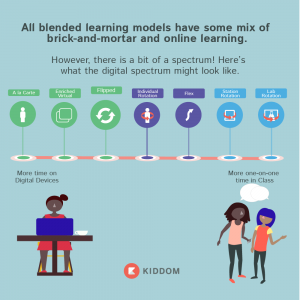 Which Blended Learning is Right for Your Classroom?
However, I have just recently learned that blended learning does not just mean at home learning! There is a large spectrum of blended learning and I was pleased to hear I wasn't totally dropping the ball!
Turns out I have been integrating the idea of blended learning throughout my classroom almost my whole career! I must give the pandemic credit…. After teaching online and returning to the classroom I integrated technology so much more and not afraid to take risks or learn along with my students.
Turns out, it was not as intimidating after all!
While many challenges come along with online learning, I have grown to see the benefits, especially as I switch roles from being the educator to the student!
Although, I still sometimes feel overwhelmed with hyperlinks, blogging, even online textbooks… I have truly enjoyed being a student online and I see the advantages that it could be provided for people in many situations. The flexibility with children and childcare, full time jobs and traveling can allow learners who otherwise wouldn't be able to extend their education to do just that! It also allows for collaboration and interaction between people who would otherwise would never meet.
It is also clear that this world is forever evolving and specifically in the technological world. While many people, including myself, like to deny this fact and would rather like to do it the old school way, I believe we are not doing ourselves any favors. Not to mention our students! If we don't provide these opportunities in the classroom for students to become familiar with technology then really we aren't setting them up well for the future!
In the end, I am sitting neutral on the fence! I see the struggles many face with technology but I also see the endless opportunities it provides!
Looks like EC&I is already changing my perspective on this technological world! I know throughout this semester I will become more confident and find tools to take back to my students!
Let the Journey Continue!