Alright, I am pretty excited about this weeks dish for many reasons. 1. I love pasta. 2. I love Olive Garden. 3. I love fettuccine alfredo. So I thought why not make it myself? And that is exactly what I did! I was really excited to try and make my own alfredo sauce from scratch this week as I have never done so before. I always wanted to try making it myself instead of using the store bought version. And let me tell ya… it was worth it.
I got the recipe from The Cozy Cook just online and this was my first time using this specific website. I really enjoyed this blog and what she had to offer. The website was easy to function and everything was easy to find. It gave you step-by-step instructions as well as photos of the process. I also enjoyed that there was a portion of the site where she gave you tips and tricks on making the sauce and what you can add to make it the best. Overall, the blog was simple and easy to use and the directions were very simple to follow.
I started off with boiling a pot of water and added salt to it (this is a must!!!). Then on a non-stick pan is where I created my sauce. Here I added 6 tablespoons of butter, minced garlic and 2 tablespoons of flour and stirred. After all was combined I slowly added in heavy whipping cream and milk(you can use which ever kind you prefer). Then comes the best part… the cheese! There were two types of cheese in this recipe, parmesan and romano. I added in the cheese and whisked it until combined, creating a thick, yummy sauce.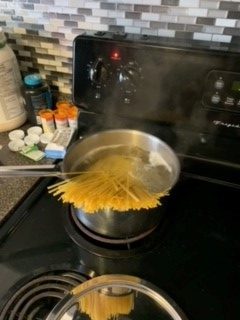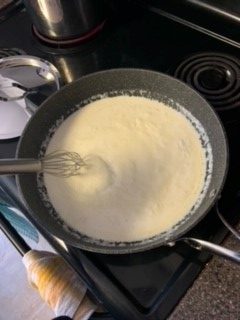 I then added in my fettuccine once it was al dente into the alfredo sauce and gave it a good stir until it was fully covered. I also added salt and pepper to taste, do not want to forget about that! We do not want a bland meal here, no thank you.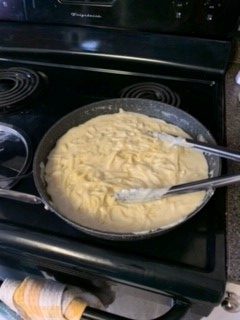 Overall, was it better than Olive Garden's? Unfortunately no. But, it was still super good!! I found that my sauce was a little too thick towards the end which I was not a huge fan of but I made it work. I might of added a little too much cheese and that is why it was a little on the thicker side. If I were to do this again I would add less cheese and really focus on stirring and making sure it's not as thick. I would give this a solid 8/10. It was very tasty and I had a lot of fun making it. Plus this only took me about 20 mins to make, not long at all. I would definitely give this another shot in the future!
Ingredients:
6 Tablespoons butter, high quality
1 Tablespoon garlic, minced
2 Tablespoons all-purpose flour
1.5 cups heavy cream
1.5 cups milk, any kind
½ cup Parmesan cheese, grated and at room temperature
½ cup Romano cheese, grated and at room temperature
Salt and black pepper, to taste
1 lb. Fettuccine
Parsley, to garnish (I left this part out)