I am very excited for this weeks meal and cannot wait to show you guys what it is! This week I was thinking chicken but I wanted to spice it up a little and try something different. So, I went onto Pinterest (you can never go wrong with Pinterest) and found a really tasty garlic-parmesan chicken wing recipe that I thought I could try! Now, I've had garlic-parmesan wings before but in a restaurant and really liked them, so I wanted to give these a try on my own. There were tons of recipes on these wings but with the one I found I already had everything at home with me.
The recipe is from TheKitchn that I found from Pinterest. This blog was simple to read and use which was helpful as I was making the wings. They have pictures and easy to follow directions which was great! Also listed were the ingredients which I will have at the end of my blog!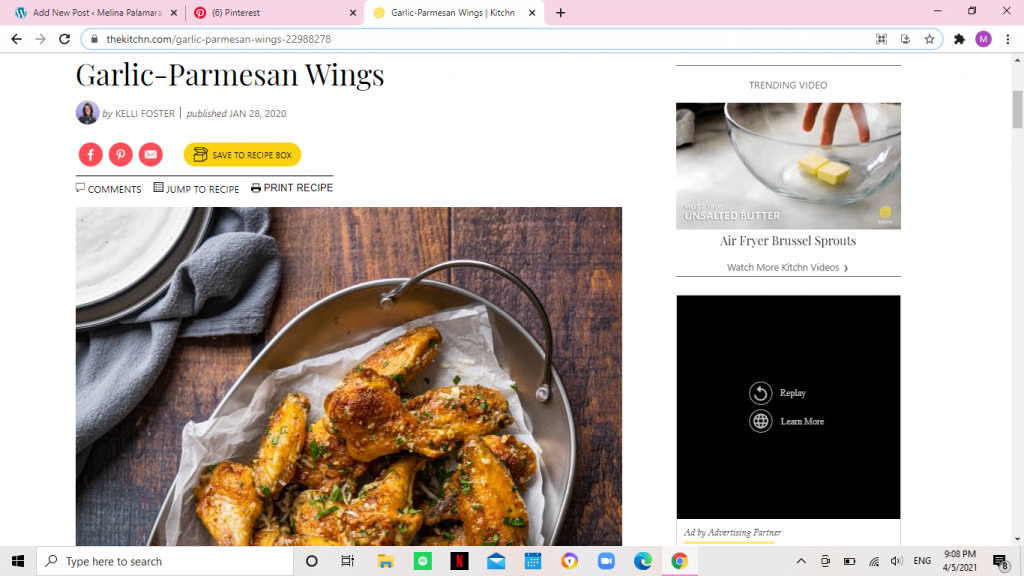 Now, lets get right into the wings!! I first started off with washing my chicken wings and then patting them dry with a paper towel. Added my spices consisting of salt, black pepper and garlic powder. I did not follow the right measurements for the spices as I wanted to add however much I wanted. I wanted to make sure these were full of flavour. I then tossed them into the oven at 400 degrees for about an hour. As that was cooking I prepped my parmesan, butter and garlic mixture so it was ready when the chicken wings were done! Once the wings were done cooking and looking nice and crispy I threw them into a big bowl with our parmesan mixture and gave them a good toss. Then there ya go! Homemade garlic-parmesan chicken wings made right at home with only a few simple ingredients. I also made a side salad to go with the wings but that was nothing too special.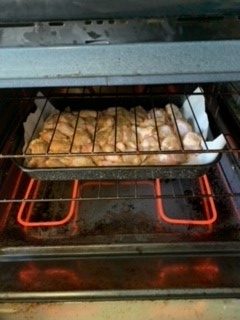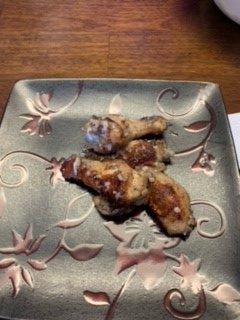 Overall, I really enjoyed these wings and thought they were very delicious. I would have added more parmesan if I had some but unfortunately, I used it all up 🙁 I would definitely be making thse again in the future for sure! They were so good and had so much flavour. I enjoyed switching it up with making different kinds of chicken wings rather then just simple breaded, or salt and pepper.
Ingredients:
1 1/2 teaspoons kosher salt
1 teaspoon garlic powder
1/2 teaspoon freshly ground black pepper
2 pounds chicken wings
1 ounce Parmesan cheese, finely grated (about 1/4 cup), plus more for serving
2 tablespoons fresh parsley leaves
3 cloves garlic
4 tablespoons unsalted butter