Twitter
Twitter was the main way I contributed to the learning of others, despite the fact I had never once used it before enrolling in EDTC 300. In the last two months, I have gained over 100 followers and tweeted nearly 300 times! Since I am only in my first year of education, I was mainly focused on contributing in critical discussions about education and helping my classmates further develop their teaching philosophies. However, I did also share any good online resources or educational materials I came across. In addition, I spent lots of time replying to my classmate's tweets. I followed along with their learning projects, provided support, and engaged in conversations about education with them. Sadly, there are too many replies to be able to share here. However, you can explore my Twitter profile if you are interested in seeing for yourself how I contributed to my classmate's learning. Below are a few tweets that best reflect my engagement on Twitter.
I also helped my classmates learn about white privilege, Canadian & American history, and justice by sharing information about topics such as #BlackLivesMatter and #IndigenousPeoplesDay. I believe it is very important to share meaningful resources that promote justice, and my participation on Twitter reflected this.
Lastly, I contributed to the learning of other educators by participating in Twitter chats and growing my personal learning network. I have not only connected with educators in Saskatchewan, but I have also connected with educators from across Canada and the United States! Twitter chats are a blast, and they became my favourite way to connect with other educators. Over the course of EDTC 300, I participated in the #bcedchat, the #rethink_learning chat, and, of course, the #saskedchat.
ePortfolios
Throughout the course of EDTC 300, I also engaged with my classmates through our blogs. I contributed to the learning of others by always including links to each recipe, video, or resource I used during my learning project. This way, any of my classmates could easily try their hand at baking if they so desired. On week two of my learning project, I went a step further by creating my very own recipe and writing it out in my blog post so that it was easier to access. I actually inspired a few of my classmates to want to try the recipe and learn about baking along with me!
I also learned that Kendyll Herauf is gluten-free like me. I was really excited to have a fellow Celiac classmate to share all my recipes with. From this week on, I made sure to tag Kendyll in my learning project Twitter posts so that she would never miss out on a recipe!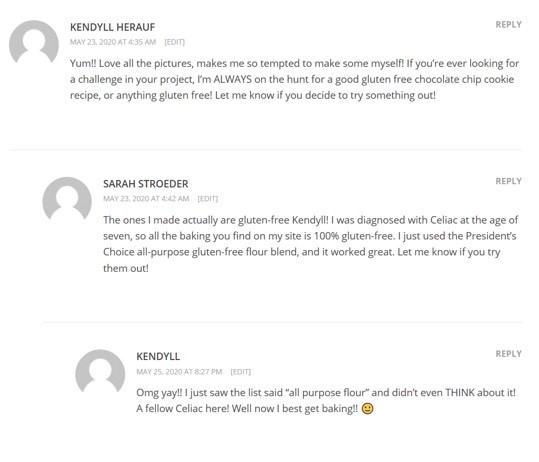 I also contributed to the learning of others through my regular blog posts. In one of my best posts, There is no Growth in Staying Silent Online, I dismantled the most common fear that holds future teachers back from engaging with social issues online, which is making a mistake or offending someone. In this post, I spoke about how important it is we educate ourselves before posting about a topic to avoid ever making a mistake, and that we know how to learn and grow from any small mistakes we may still make. This post encouraged my classmates to be more confident and authentic when posting online, which will allow them to learn much more than they would staying silent.

Below are just a few examples of how I supported others, made connections, and engaged in questions with my classmates through comments. I made sure to comment on at least three of my classmates' posts per week, so this is by no means a comprehensive list. However, I wanted to show the different types of comments I made and highlight some of the things I learned from my classmate's blog posts. You can easily access the post that the comments are from by clicking on the image's caption.
Supporting Others
Making Connections
Asking & Answering Questions
Slack
Although Slack was my least favourite platform to use, I did try my best to contribute where I could. Anytime I saw someone ask a question that I had the answer to, I made sure to explain it to them or provide them with a link that would help them figure it out. I also shared things that were specific to the class on Slack, such as an article that was directly related to an upcoming assigned blog post. Below are a few examples of my participation on our Slack community.
In Conclusion…
More than anything, I focused on making connections during EDTC 300. I connected with my fellow classmates and many other educators through Twitter. I often found myself retweeting and sharing without even remembering it was part of a school assignment, which lead to me tweeting consistently multiple times per day. I also connected with my classmates through our ePortfolios and Slack. I made a point of commenting on blog posts multiple times per week and contributing to the conversations taking place. These were by far the kindest and most supportive classmates I have ever had, and I wanted to ensure that I was returning the favour. I am so incredibly grateful for the huge network of online support this class has provided me, as I know it will help me in my teaching journey and life in general.