---
In my very first learning project post, I outlined some of the ideas I had for the project. I planned to use Betty Crocker's website, Facebook, Twitter, and YouTube to find recipes and baking tips. I ended up using all of these platforms, except Twitter. While Twitter does seem like a great place to find new recipes to try, I just did not have enough time to utilize it in my learning project. However, there are lots of recipes I found on Twitter that I plan on making in the future to continue expanding my baking skills, such as these kinder cookie bars!
Initially, also I planned to experiment with different types of gluten-free flour. After using President's Choice Gluten Free All Purpose Flour for the first few recipes though, I changed my mind. I learnt that this flour works so incredibly well and decided it would not make sense to stop using something that worked perfectly for me.
---
I started my learning project off by trying an easy banana bread recipe by Betty Crocker. This first week, I learned a lot of basic baking skills. I learned to prepare all my ingredients before starting to bake and about the specific vocabulary used in recipes. In addition, I learned what buttermilk is. I found this article by Sugar Spun Run that explained how it can be made using milk and lemon juice. My banana bread was actually a success, and I think the most important thing I learned from this week was to have confidence in my baking abilities!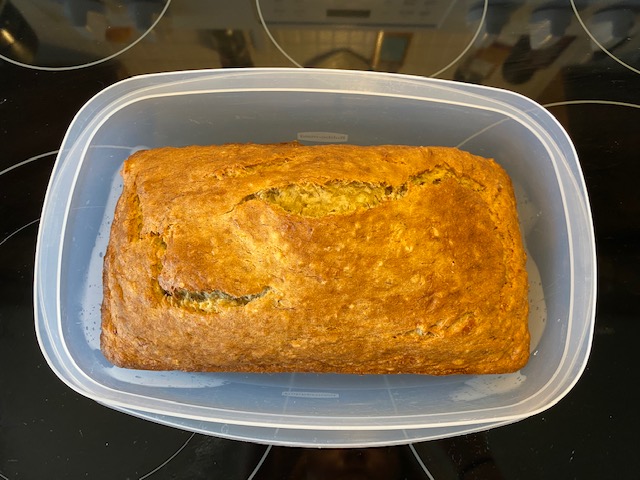 ---
I took a big leap on the second week by creating my very own chocolate chip cookie recipe. I was inspired by Raylin Janzen to challenge myself this week, and it definitely paid off! I combined three different recipes in hopes of creating the PERFECT chocolate chip cookie. Each recipe I referenced was from a YouTube video.
The first video was by Tasty. While this one was the most entertaining to watch, it was difficult to actually follow along with the recipe. I found myself having to constantly pause and rewind it to catch the measurements for each ingredient.
The second video was by Honeysuckle. This video was by far the easiest to learn from, since it featured her baking the cookies while explaining each step. This video also included a written version of the recipe, which I found extremely helpful.
The third video was by Lauren Brennan. This video was the most amateur, as it did not have any kind of voiceover or written explanation on the screen. Thankfully, it did include a written recipe. Despite the fact the video itself was not enough to make the recipe, I still appreciated having a visual.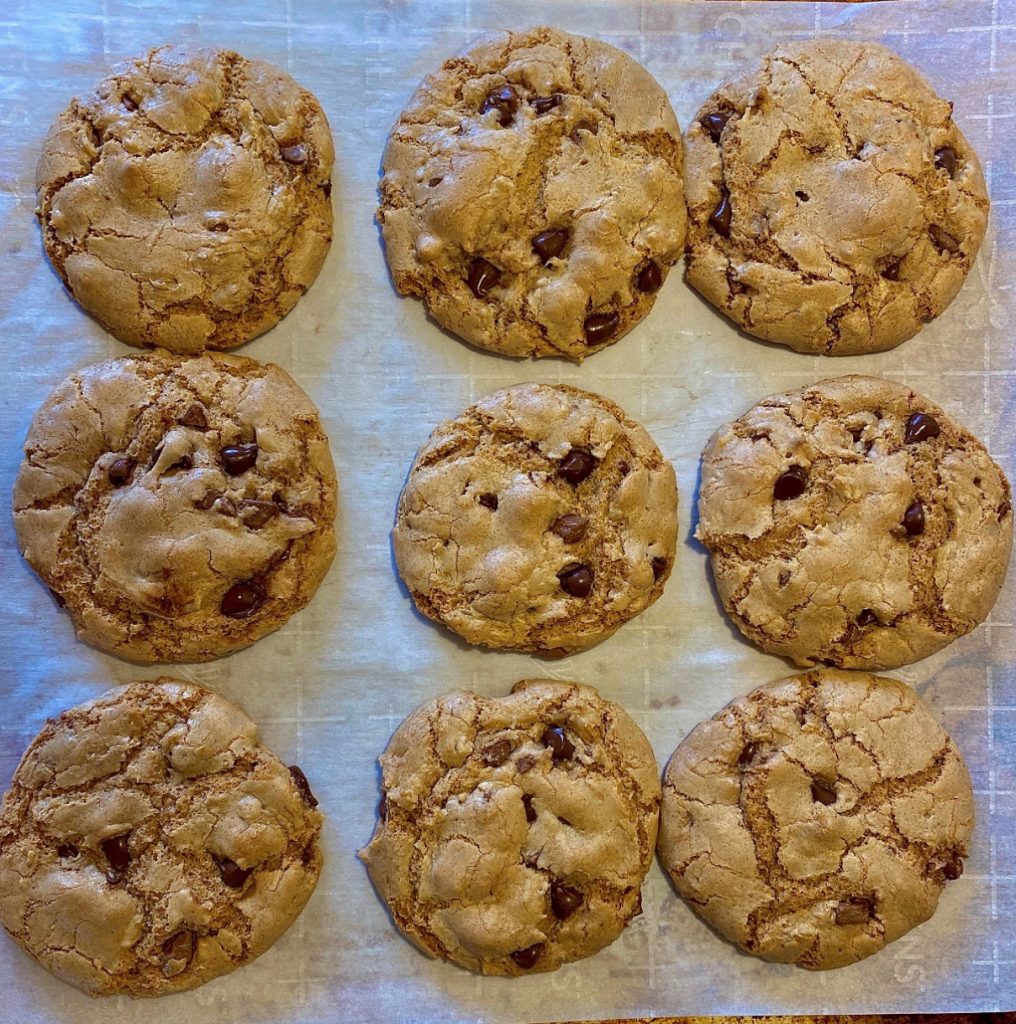 The recipe I created turned out amazing, these cookies were to die for! This was the week I discovered what a great resource YouTube is, as I was pleasantly surprised by how many recipe videos I was able to find there. I also learned how to combine elements from multiple recipes together to create a new recipe, which was a lot of fun for me.
---
This week, I learnt about cupcake decorating and how to use different decorating tips. I followed this gluten-free vanilla cupcake recipe by Gluten-Free Palate. It also included a buttercream frosting recipe on the same page, which was super helpful. I found two really great YouTube videos explaining how to use decorating tips. The first video explains how to decorate using just a Ziploc bag, scissors, and tape. The second video is more professional, and it shows a larger variety of cupcake designs.
I created a video tutorial using iMovie. It had all the features I needed, and I found the app super user friendly. I learned how to crop videos, adjust the speed of a clip, and add a voiceover. I also learned how to use the Skitch app, as I used it to annotate the screenshots of my process on iMovie. The big takeaway from this week is that videos can sometimes make something appear much easier than it really is. Even though there were a couple fails, I was still quite proud of my cupcakes!
---
In preparation for my final project, I decided to learn how to work with fondant. I used this easy homemade marshmallow fondant recipe. I really liked the layout of this recipe, as it let me check off each step as I completed it and included extra tips. This week, I wanted to learn how to make a fondant rose from social media. First, I tried IGTV, but I was not able to find anything on this platform. Next, I searched Facebook's watch feature. I found this really great video that included a written explanation of each step on the screen.
I was really happy with how my roses turned out! Although I do not think Instagram is the best platform to learn baking skills, I discovered that Facebook can be great for learning how to decorate. I think Instagram, much like Twitter, is more useful for baking inspiration rather than actually learning how to do something for the first time.
---
For the very last week of my learning project, I baked and decorated a cake completely from scratch! To start the project, I got some decorating tips from Bree-zerts. While the tips were helpful, I do not think a phone call is enough to be able to learn a new skill. Although I watched a number of YouTube videos on cake decorating, I struggled with the icing. I learned that while words are not quite enough to succeed in learning a new skill, visuals alone are not enough either. It is a combination of the two that really enhances online learning success.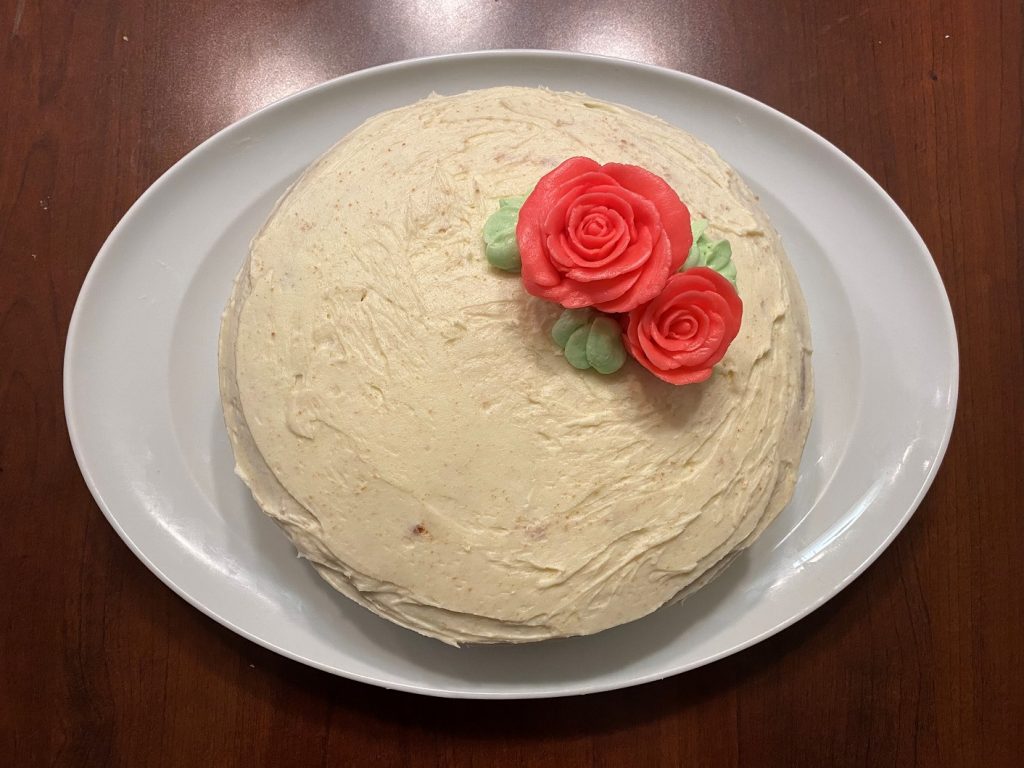 I followed this gluten-free vanilla cake recipe when baking the actual cake. Afterwards, I used the app Skyflow to create a time-lapse of my cake decorating process. You can watch the video here. It was the first time I ever made a time-lapse video, but this app made it so easy! I filmed my process on the app in three parts, and then combined them into one video using iMovie. Even though the icing did not turn out exactly as I wanted, I was still really proud of my cake and the learning journey it represented.
---
Final Thoughts
In the beginning, I honestly never expected to enjoy baking as much as I do now. I definitely think I gained a new hobby from this learning project, which is really exciting! Going forward, I think I will continue to learn how to bake solely from online sources. While I am sure there are great baking classes out there, nothing can beat the infinite number of recipes, videos, and tutorials that can be accessed for free on the internet.
The best online resource I used was YouTube. There are so many great videos there that provide both a visual and auditory explanation, which is the key to successfully learning a skill for me. I will definitely continue to use YouTube for online learning in the future, as I also discovered it has tons of helpful math videos that could help me to understand a topic I may be struggling with.
This experience taught me that social media can be used for so much more than just selfies and mindless scrolling. There is so much useful content on social media; you just have to take the time to actually look for it. I learned that Facebook can be a great resource for learning how to bake, while Twitter and Instagram have lots of inspiration and links to online recipes.
Learning online was actually much easier than I expected it to be. While there were a few things that did not work out for me, I was pleasantly surprised by how much great baking and decorating material I was able to find online. I also loved all three of the apps I used to document my process: iMovie, Skitch, and Skyflow. I plan to use all three of them for future classes and as an educator!
I cannot thank you enough for all the support and uplifting comments I received throughout this journey. Getting to share my accomplishments and failures each week with such amazing classmates made the process so much more fun. Continue to keep an eye on my Twitter for future gluten-free recipes and inspiration!
Online Resources & Apps Mentioned
Baking Resources Mentioned