Technology is extremely prevalent in our world today. A 2019 study revealed that the average Canadian spends around 11 hours per day looking at a screen. Kids are also being exposed to technology at an increasingly young age, with studies showing that most children now have a phone by the age of seven. Although today's generation is growing up surrounded by technology, it is important we do not assume this means that they automatically know how to use it properly.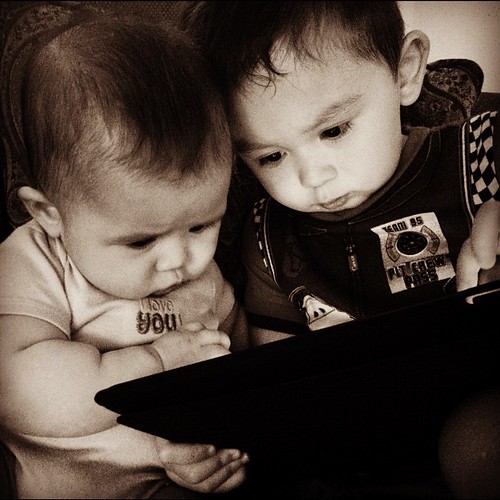 Digital literacy is becoming an increasingly important skill for students to have. Failure to use online platforms, social media especially, in a smart and safe manner can cause a long list of problems. In Five Things We Need to Know About Technological Change, Neil Postman suggests that "for every advantage a new technology offers, there is always a corresponding disadvantage." For example, social media has allowed us to connect and share our lives with friends easier than ever before, but it has also given rise to cyber-bullying and self esteem issues. It can be easy to get caught up in all the positives that technology brings and forget about the inevitable disadvantages that follow.
I believe that if schools are letting students use technology in the classroom, they have a responsibility to teach digital literacy, digital identity, and digital citizenship to students, starting in Kindergarten. Kindergarten students are already exposed to technology and online spaces on a daily basis, and we need to start teaching them how to use these online platforms properly from the very beginning. I believe it should be treated just like any other skill we teach in school, such as how to count to 100 or how to read. Students need to be taught the skills required to enable them to be responsible online and develop a positive digital identity.
In my experience, schools are often quick to discipline students for posting inappropriate content online, yet they do not teach students anything about digital identity or explain why it is so vital that we act responsibly online. This is the problem. We do not teach students how to write by giving them a pencil and paper and then putting them in detention when they produce a horrible essay. Likewise, we cannot just give students technology and assume that because they can operate a computer, it means they have the skills to use it responsibly.
Overall, I think technology has greatly improved our lives and has made things easier in many ways. Can you imagine what it would be like to never be able to call, message, or video chat with that family member or friend who lives hours away? I think our education system needs to change to keep up with technology. Digital literacy needs to be added to the curriculum, we need to teach students about the advantages and disadvantages of technology, and we need to utilize technology in the classroom to better engage students in learning.