Phew, my mini lesson facilitation is done! To be honest, I was a bit nervous, as this was my first time teaching an actual lesson. My partner Paige and I decided to plan a lesson on digital identity for grade 4 students. Luckily, I do have quite a bit of experience teaching kids in this age group. I am a Brownie leader, which means I work with girls in grades 2 and 3. I think this helped me a lot with knowing what material and level of difficulty was appropriate for this grade level. One of my biggest concerns while planning the lesson was whether it would be age appropriate and engaging for grade 4 students. Although it was hard to tell if we succeed in this area based on the experience of teaching the lesson, since we were teaching it to adults, a few people commented that it was very age appropriate.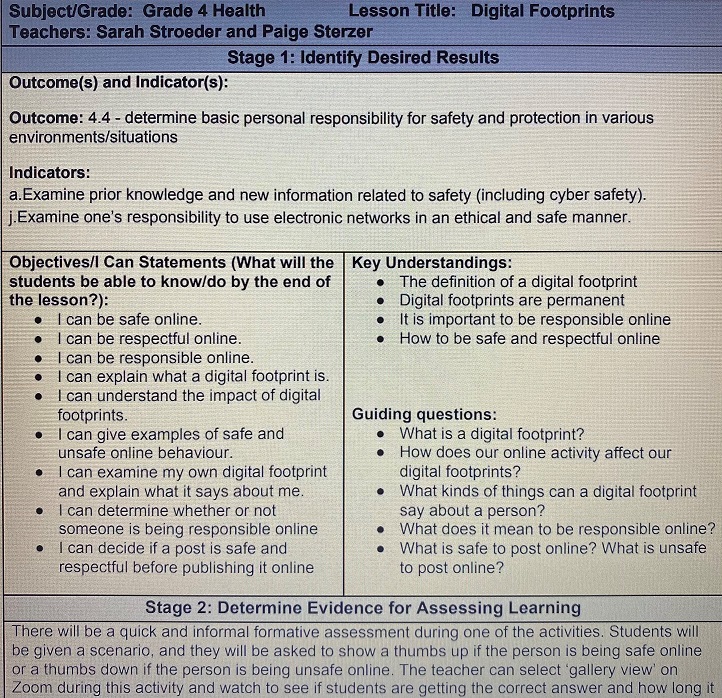 I actually did not find it more difficult to plan for an online lesson. I was already familiar with Zoom breakout rooms, I knew we would still be able to show our PowerPoint, and I knew how to annotate on the screen to use it like a whiteboard. However, I think teaching online makes the delivery of the lesson a lot more challenging. It was difficult for me to keep track of everyone's responses, since there were times I was unable to view the chat while teaching. Teaching the lesson online also made transitions more difficult and awkward. When you cannot see or monitor your students while they are working on an activity, it is almost impossible to know when to move on with the lesson. We solved this by having everyone write 'done' in the chat after they finished the quiz.
Overall, I think the lesson went really well. The video worked perfectly with the lesson, and my classmates drew pieces of information from the video to use during the brainstorming activity. All of our links and activities worked quite flawlessly, and everyone was able to access both the game and the quiz. Technology often comes with troubles, so I am very thankful everything went as smoothly as it did. If I was to teach this lesson again, I would have added some more room for discussion. With being online, I wasn't really able to get a sense of whether or not everyone enjoyed the game. It would have been nice to have some kind of discussion about the game to get a sense of whether they liked it and if it was a useful way of getting them to recall their prior knowledge about digital identity.