It's Here… The Final the Draw
I cannot believe I have made it to the end and how much I have learned about both drawing on my IPad and using the app ProCreate! For this final drawing I wanted to use as much of the knowledge I have learned throughout the process of doing this learning project this semester. Therefore, I decided to combine some of the different weekly drawings all together. Before I get into the drawing for this final piece lets take a quick review of what I did each week.
Week 10- Putting it all Together (The Final Drawing)
As discussed in the beginning I wanted to use the knowledge I learned along my journey to put together my final piece. Get ready for it because here it is…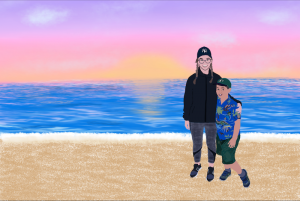 Although all the items I drew amongst the weeks may not be in the drawing I still used aspects that I learned to create this. That could include using layers, using a clipping mask, using different brushes and so much more. I started with a sunset, added sand and then detailed the water and sky. Then I decided to use the tracing strategy to draw a picture of my brother and I. My favourite aspects from this drawing was the sunset and how well I blended it, the reflections of the sky on the water, the nice transition from the sand to water, and finally the small details in the traced picture, especially my leggings and my brothers shirt. What are your favourite parts of this drawing? If you followed my series of blog posts on my learning project, did you have a favourite week? Do you think my skills improved over the 10 weeks? I would love to hear all your thoughts in the comments.
If you are interested in my process of drawing this video here is a short, sped up clip of me drawing it. You will also see the original picture I decided to trace; let me know if you think they look almost identical or not.