Watch What You Post Online!
I think most of my readers can agree that we have probably searched up someone's name on Facebook/Instagram if they sound or look familiar. But, I have never gone into a full search of someone before. Needless to say, it was an interesting experience.
Really though, what we post online, we should be cautious of. What we put online is our own choice and oftentimes will be stuck there forever. That is something that will ALWAYS be in the back of my mind. I should only be putting things online that I want others to know about me.
Being careful of what we post online is not the only issue here. People hiding behind a keyboard sending hateful messages to others through social media has become WAY more common in today's society. The video, How one tweet can ruin your life, says that "and then I went back to Twitter, somebody said my very existence made the world a worse place". This just reminds me of all the hateful things that can be said online. Things can be said by people that might now even know who you are in real life.
This reminds me of my elementary/high school experience growing up. Social media was not exactly the newest thing, but it was becoming increasingly common for my age group. With this, many people my age did not learn how to treat others nicely online. I, too, was sent rude comments for no reason and it wasn't because I did anything wrong. It was because social media was a new place for people to make comments behind a keyboard that would most likely NEVER be said in person towards individuals that they do not like.
With the readings and videos this week, along with my own personal experiences, I see the importance of teaching my students about safely using social media. Safely using social media does not only include what you post about yourself, but posts you make in regards to other people.
I remember attending high school and my teacher searched up our names online. This was before any of us put restrictions on our Facebook posts. This class stuck with me. My Facebook images came up on the search (none inappropriate) but still were scary to see. Since my entire class was terrified by a large part of our life showing up online, the teacher luckily showed us to manage these settings.
To be honest, I do try to search my name online every month or two. As well, when I apply for any news jobs, I search my name online to ensure nothing wrong comes up.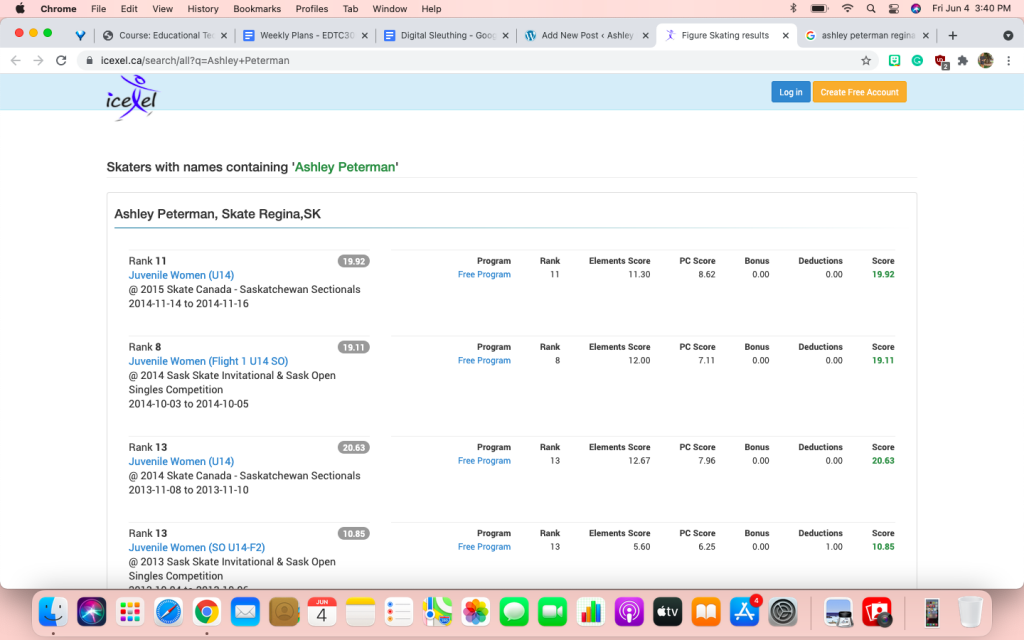 This week when I searched my name, I noticed that my figure skating results from years ago came up. This caught me off guard because it wasn't there a few months ago. Of course, it was nothing bad but I was unaware that my exact scores were now online for the world to see. However, it is interesting that very few competitions were actually uploaded onto there. So, these results do not necessarily show my entire figure skating career.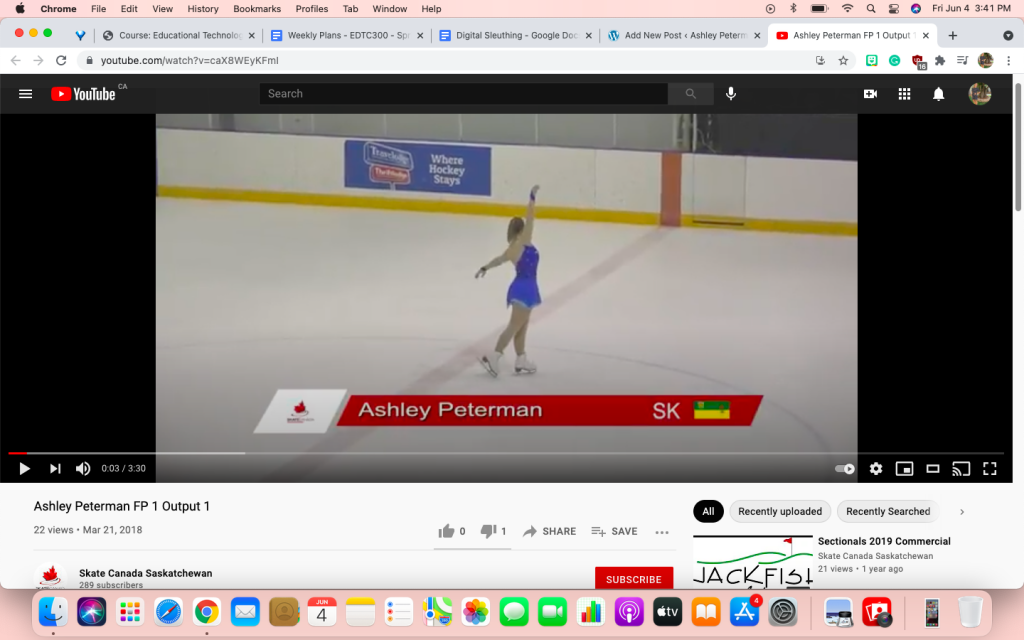 Along with the results, some of my YouTube videos of me figure skating came up. Again, the only videos that came up were ones when I competed super injured, so really, that kind of sucks to have online (but oh well).
A link to my Instagram also came up online. Of course, I watch what I post on Instagram to ensure that if a future employer ever searched me up, only appropriate things would show.
Other things that came up for me included a link to my blog, a link to my Twitter, my name on the Skate Regina website for coaching, and results from the 2014 Saskatchewan Winter Games.
The article, Having multiple online identities is more normal than you think, mentions that "To have us each be confined to just a single account, or a single all-in-one persona, is confining". When thinking about the several links that come up in response to my name being searched, I remind myself that this isn't uncommon. Many people in this world have multiple accounts on multiple social media apps. This quote reassures me that although many things come up, I am not the "odd one" out. Rather, I am like a large portion of society in today's world.
Altogether, I am not really shocked by what I found online about myself. Most of it I had already expected, and luckily no private things were online.
Now, I also had to digital sleuth one of my classmates this week. This felt kind of awkward. Yes, we have all searched up names before but I have never had to do a full-on search of someone's entire digital life before. To say the least, it felt like I was invading their privacy a bit. But then, I remember that whatever people post online (unless it is leaked, which did not occur here), they chose to make it public. Altogether, this person had similar things come up that came up for mine (minus the skating).
I just find it so interesting that you can now search for someone online and after doing an in-depth search, you can know the person quite well. Altogether, this experience was good to do and quite eye-opening. It reminds me of the importance to watch what is posted online because you never truly know who is looking at it.