I cannot believe that my baking journey has ended. I started this journey in January and completed my last project for the class in April. I have definitely grown fond of a few creations and I will continue to bake them at home, but there are some things that I will leave for the professionals, and purchase from a store or local baker!
During my journey, I realized the art of baking and how much skill is involved. It is a craft! I enjoyed almost all of my projects; I did struggle with some more than others. My goal when I started this learning project was to see if I could make my own cake for my wedding. I can confidently tell you that I will leave the wedding cake for someone else to make! I also was just interested in learning how to BAKE! I was not good at almost everything so I tried to do a wide variety of options to keep me on my toes and keep it interesting.
I used many resources to help me learn how to bake, but I definitely used Pinterest the most! I also spent A LOT of time googling questions: "Why do you boil bagels?" "What happens when you forget to add the butter for your doughnut dough?" "What is heat treated flour?" and I am sure many many more searchers were had. I was also able to try new technologies along the way. I used Animoto, Loom, Zoom, and Laura's highly recommended Canva.
Lets check out my baking creations week by week!
WEEKLY SUMMARIES
Week 1:

This week I started by sharing that following recipes and directions are why I am not a good baker. I outlined what I envisioned my process being: starting with something simpler and working my way into the more difficult baking tasks. I also said how I choose baking as my learning project because I thought I could make my own wedding cake at the end of this process.
-I shared a Tik Tok video and created a poll on my blog.
I ended my post with a baking tip that I continued throughout the semester (it added a little personal touch to my blog).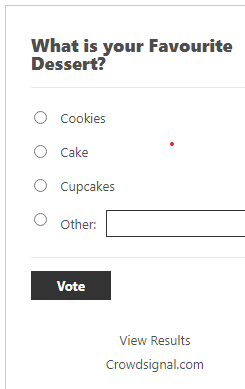 Week 2:

This was my first week in the kitchen baking, I made brown butter cinnamon buns, by a local business that shared their recipe on their blog/website. The Everyday Kitchen! I used pictures to document my experience with an app called "layout" which is created by Instagram. I continued using layout for the remainder of my baking projects this semester.
I liked that I was able to find a local bakery to try make their recipe.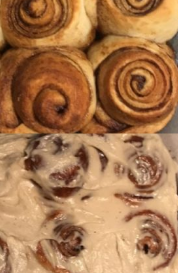 Week 3:

This week I made stuffed pizza buns! I found a recipe on Pinterest that I liked and I also embedded a YouTube video that had baking tips for beginners.
here is an example of what one of my #baking tips looked like.

Week 4:

This was a bonus baking post as I completed it before our class and found out we needed to incorporate a new technology for our next #learningproject post.
I was able to bake Valentines day sugar cookies with one of my best friends and she taught me her tips and tricks. She also brought her stand mixer (I don't have one and now really want to get one). She shared with me her recipes which you can find on my post. It was a lot of fun baking with her and she taught me about "flood" icing which I don't think I could have mastered without her! Our Conversation Heart cookies were a success.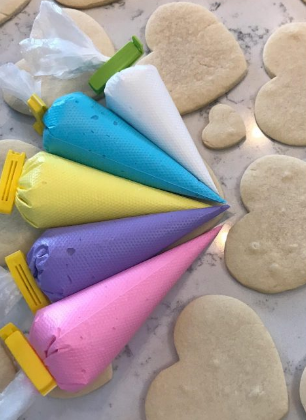 Week 4 Part 2:

This week, I used Loom to record myself baking Cotton Candy Cupcakes from the Jenna Rae Cakes Cookbook (highly recommended purchasing this baking cookbook). I actually pre made a batch of cupcakes, so I could record myself doing the whole process. From making the batter to decorating the cupcakes. I enjoyed using Loom and think it is an easy casting tool (I however need to work on my acting skills). I also started including "Pexel" pictures into my blogs at this point.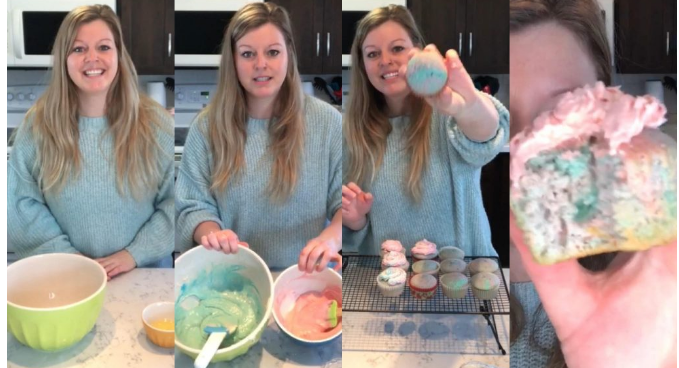 Week 5:

This week I made chocolate brownie batter stuffed cookie sandwiches. I used a recipe from Jenna Rae Cakes Cookbook, so unfortunately I could not share it. I used a new form of technology called "Animoto" for this learning project post. I enjoyed using this tool to create my video, but struggled uploading it to my desktop. I also included a meme on this blog post.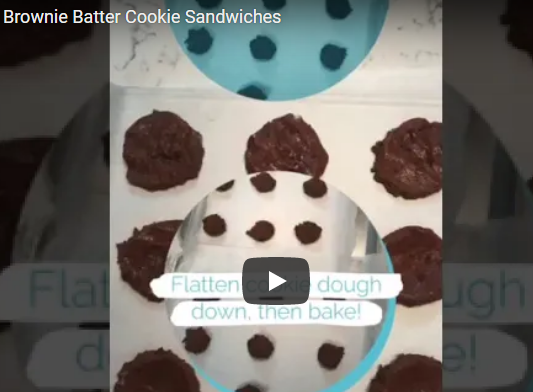 Week 6:

This week I would say was my favorite week! I made something that has been on my bucket list! BAGELS! I once again used Pinterest for my bagel recipe and this recipe is amazing. I used "Layout" to create my photo collages to post on my blog. I have also started sharing my blog posts to my personal Facebook page and the interaction with my friends and family has been great.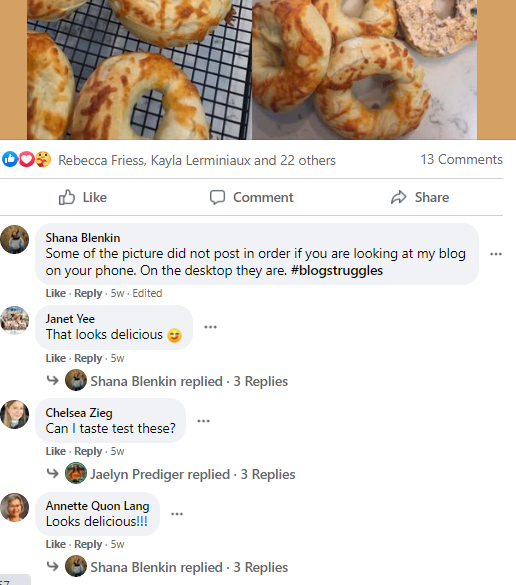 Week 7:

This week I made not one, but two cakes for my 30th birthday! They were both the same kind of cake, but different recipes. both recipe were from Pinterest and we taste tested to see which one we liked better. I also finally figured out how to add my Bitmoji character to my blog posts and added it as a Chrome Extension.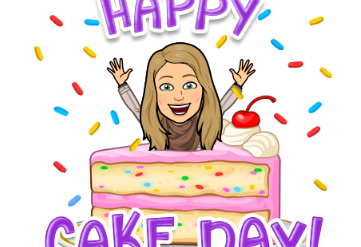 Week 8:

DONUTS! this week I made donuts and they turned out pretty dang awesome. I used a new website for my recipe called Delish. I actually follow Delish on my Facebook account. This is one of the weeks that I forgot to take the butter out of the microwave and didn't add it into my dough. A few quick Google searches and I was back in business. On my post throughout the semester I also signed off with "Stay Sweet – Miss Blenkin." I thought it was a nice personal touch to my blogging.

Week 9:

This week I took to Twitter and Facebook and asked people what they wanted to see me bake next. A ton of people suggested something with pastry since I never made anything like that yet. I decide I would try make a pie. It honestly was the most challenging learning project of the semester my pastry crust just wasn't working out for me. I also used Canva to create my presentation and really loved it. The simplicity of it and it is just like PowerPoint, but on steroids'. Click here to see my Canva presentation.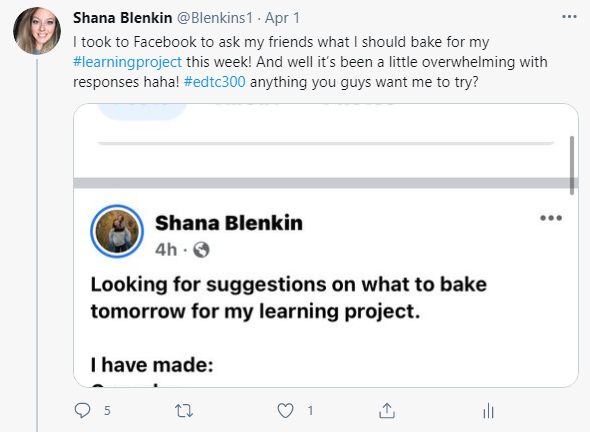 Week 10
My last baking project. Hands down the most fun! I signed up for a Zoom class, put on by my favorite Jenna Rae, the owner of the cook book I have and used a few times this semester. I made an Easter cake. It was 6 inches tall and turned out better than I expected. #howtocakeit was the website. You can sign up for different classes through them. It was an hour and a bit zoom class through a private Facebook group made, I will have access to the "workbook" and zoom video forever! This is the project that I also realized I will not be making my won wedding cake. It would be way to stressful during an already stressful week!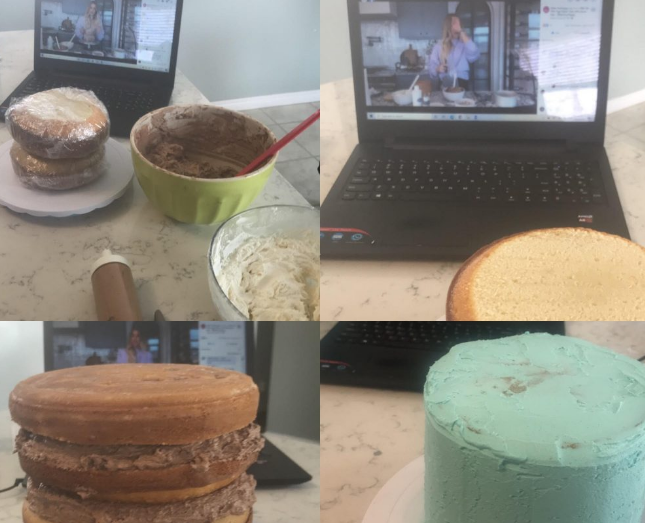 REFLECTION
I really enjoyed the baking aspect of my #learningproject, but I also loved that I tried different technologies that I normally would have never used! Loom was one of my favorites, if I ever decided to try my own baking or cooking I would use Loom to capture it. It was a great tool and I liked that you can interact with the video when you are watching it with "thumb ups" or "hearts" <3. I also thought Canva was amazing. It will be a resource I will use in my future classroom. I liked that you could share the presentation so more then one person can be working on it at a time. (I am new to Gmail and all the cool features google has, so tools like this are so far advanced from Microsoft). I do wish I included more video's whether it would have been Tik Tok's or You Tube videos. Looking back That is something I will add if i keep this baking blog moving forward.
Baking was very enjoyable and I will definitely be making more bagels in my future. (I have made them 3 times since my first try). The cake turned out really well, but it was so much work and patience. I think I would make them again, but for a close friends or families special occasion nothing too serious. I am glad I choose baking because my skills were not good before class and now my baking is edible. I will be attending more online baking classes, but can't wait to take an in person class as well.
I also went to mention that I just learned about Snipping Tool from our Slack group. If you can or cannot tell I really like it. I used to use "Alt and PrtSc" to take my screen shots, but I much prefer snipping tool.
This class was amazing and I would highly recommend it to more Ed students. Thank you to my classmates for interacting and making my learning project more enjoyable with your kind words!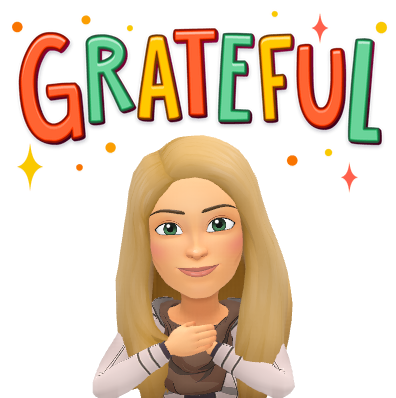 One last time, (maybe – I do plan to continue posting my baking journey)
STAY SWEET,
Miss Blenkin.