The Final Cake
The Final Cake
For my last time decorating a cake for my learning project, I wanted to add everything i have learned so far. I was on twitter looking for inspiration when i come across this cake. This cake had Icing Christmas tree on it, and some icing Christmas trees on the side i have never done before, but i was up for the Challenge!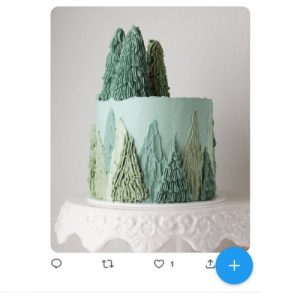 This is the cake I will be trying to make!
The first step was doing the crumb coat, I did a bit better tan the last cake I did. I did not colour the base icing a light green, as i only had food colouring and it's a bit hard to get different shades of colours. After I was done doing the base, I made 3 Christmas trees on the top. I used paper to make a cone shape to become the tree, i covered the paper with green icing for the base and then piped on top of the base of the tree. I put powered sugar on top of the trees, as well on top of the cake to make it look like snow. I also put shaved peppermint Kiss on it as well. Now for the side of the cake Christmas trees, I haven't done any decorating like this before but it does't seem hard.
I first started with just putting green icing on to the cake in a shape of a triangle with a butter knife, i made two of those trees to be the background. The next tree I made was using  a piping tip thats looks like a basketweave tip, I made two of those trees on the side/front of the other trees. Make sure when overlapping the trees to have different shades of trees, so they standout from each other. And lastly I made two small trees in front of the other tress using an open star piping tip. Having different texture of the trees help them stand out from each other. But once i was done the tree, i was completely done making my cake!