Assessment Technology & Practices
(Week 3: Post 2)
In this week's second presentation, we learned more about assessment technologies and practices and were reminded of assessment for, as and of learning and how that may look. They also discussed formative and summative assessments and walked us through a few different assessment technologies and discussed advantages, disadvantages, and some issues or problems that could arise with each one. One of the readings they included, was: 7 Smart, Fast Ways to do Formative Assessment, where the article discussed some ways to include fast formative assessments such as entry and exit-slips, interviews, self-assessments, etc. If you are looking for a good read on using assessment technologies on learning, the presentation group also provided a great resource that was easy to read and understand. You can find this article here.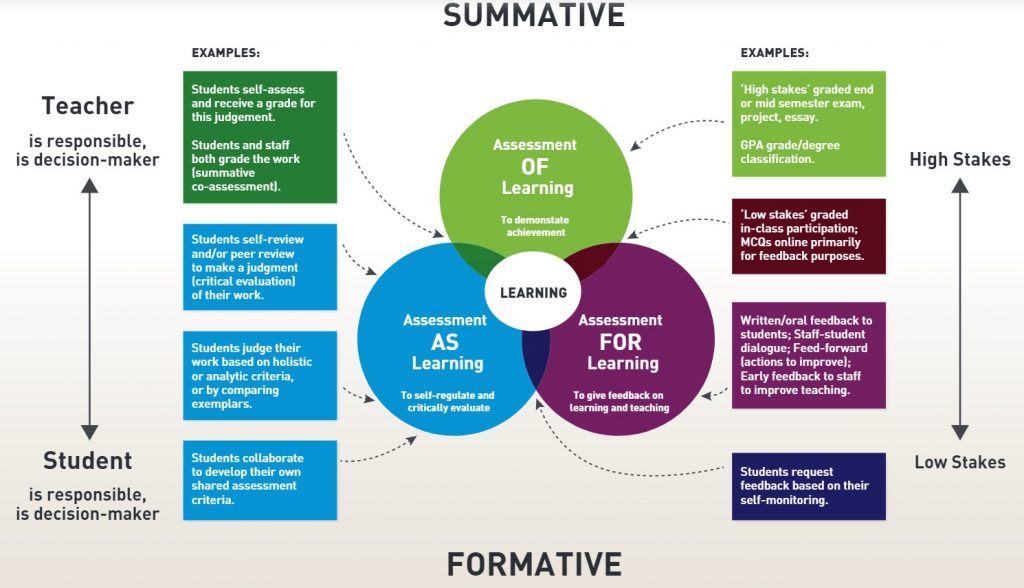 Incorporation of Assessment Technologies in My Practice
In the past, I was pushed in the behaviorist learning theory direction, and assessments reflected this approach. Spelling tests, multiple choice quizzes, tests, right and wrong answers, etc. It was regurgitation at its finest let me tell you. But that was something that was valued under my administration and the school I was at. Being a new teacher, I felt obligated to follow the dominant assessment practices, and felt very much on the outside when trying new things or swaying from what most people were doing.
Although there are many cringe-worthy assessment practices in my past, I'd like to think that I am doing a better job now utilizing more constructivist, social constructivist, and connectivist pedagogies. From utilizing rubrics, 4-level scales, exemplars, whole-group built exemplars, self-reflection, peer reviews, conferences, etc. I am constantly trying to adopt new assessment practices and refine my own all of the time. I do like to use a plethora of different tools from Kahoot, Jamboard, Padlet, FlipGrid, etc. to Microsoft Word, PowerPoint, Google Docs, Slides, Forms, etc. I am trying things all of the time. I do know that a lot of my kiddos this year preferred to work on paper than technology, and many said that they didn't use a ton of technology through their schooling and found that they needed a lot of support and guidance for the first half of the year to use their technology properly. While researching more about assessment, I found an interesting quick read called 10 Points to Consider in Choosing Alternative Assessment Methods for the Online Environment, from the National Forum for the Enhancement of Teaching and Learning in Higher Education.
So, what does that mean for the future? Well, I hope to change things up even more and include some of the tools that my peers in EC&I833 have introduced or reminded me of. One of the assessment technologies that Laurie, Christina, Janelle, and Ramona introduced the class to and did a really good job of explaining was Plickers. I think Plickers would be a good mix of using technology and paper, and it was a tool that I had used way back when but hadn't since (and boy does it look quite a lot different). I also really like how the presenters included relevant research to back up Plickers, in the article they included called: Using Technology for Formative Assessment to Improve Student's Learning.
I also am really intrigued to learn more about Daniel's math set-up that he discussed in his last blog post (you should really check it out—lots of opportunities for inquiry, group work, collaboration, conferencing, feedback, etc.). So I would like to incorporate more opportunities for authentic teamwork, discussions, and conferencing. I would also really like to include more opportunities to empower students to own their assessment practices as John Spencer suggests in the following video. If you really enjoyed watching this video, check out his playlist about crafting student-centered assessments.
The Learning Continues—Making Changes
Although there are many assessment tools that I have tried out, adopted, tossed, adapted, changed, etc. the learning process in terms of assessments tools is always evolving. Looking back on some of the assessment practices I utilized in my first few years of teaching has me cringing. Was some of it mandated by the school I was at and the division? Of course, but some of it on my part was just bad practice even if it was popular at the time. Education can be such a pendulum, at times it swings the total opposite way, sometimes it comes back to the middle, but most of the time it seems to swing wildly from one side to the other. Even though I would like to think that I have a lot of say in the assessment tools I use, I know that most of them are recommended, or strongly encouraged that we follow. It could be for consistency, financial, or other reasons, but there seems to be a strong push from higher up.
However, I guess the biggest change in my assessment practice is just not assessing absolutely everything that the students do. In math, I have two days in a row where the kiddos learn the same thing. The first day is a practice day, where they can try out a new skill being learned, time to ask questions, answer keys are given, etc., and students are not assessed on their work during practice time. The next day, I then give them a series of questions where they can show their learning. They can still ask questions and get feedback, and we still complete a few of the questions together, although this one I use for assessment purposes. I also don't focus a ton on memorization anymore. I think there are certain things that we still work on memorizing (like our multiplication facts), however, these things are not assessed for grades.
Over time, I have also learned that the 4-level scale is great, and rubrics are my go-to for everything. As a learner, I like to know exactly what is being asked of me. I also like to include exemplars, as well as create an example together as a whole group. Over the years, some people haven't liked this assessment practice of mine, saying that I am spoon-feeding the children, however, I believe that it is important to model what we are asking students to do. Is my assessment practice the golden boot? No. But it's legit and it seems to be working for me as a teacher and for my kiddos. Could I do better at it? For sure. I am always open to learning and trying out new things. I do think though that we need proper professional development when trying out new assessment tools as well as examples of how other teachers have used them, etc.
Aligning School Division & Personal Assessment Practices
To be 1000% honest, this can be really difficult at times. Over my 11+ years of teaching, I have seen a lot come and go, and each year seems to be very different in terms of assessment practices than the last. Some years we were required to do standardized tests like the RAD, Vernon, DNA, etc. Although it wasn't used as a mark, and only for school division data, I didn't feel like they were great uses of our time, it made students anxious and the data didn't really guide my practice in any way.
In prior years, we were asked to do the F&P (Fountas and Pinnell) test, and to be honest I quite like the results of this test. Even though I didn't use it for grading purposes, I used it to see what level the students were at in their reading, and what areas they struggle in. This really helped me when making small groups of students to work with, as well as what I needed to work on as a whole group. Was it the end all be all? No. But it was a consistent tool that is used throughout our division and through many different grades. This isn't a practice that has been adopted though, and each year it changes it we are suggested to do it or not, but I like to do it for my own teaching.
Even though our division has assessment protocols in place, it really seems to differ from school to school and what they have adopted and used. From one school to the next, it can look significantly different even if they are just down the street. Therefore, I think that we could do a better job at being consistent and getting feedback from each school to guide our future practices. So overall, do my assessment procedures line up with my division or school? I'd like to think so in some capacity. I know I definitely have some different assessment practices than many, but I'd like to think that in some ways it's lining up. I do use the tools they have asked me to use, as well as some of my own that I have found and adopted through the years.
Let's Get Communicative, Communicative…
Thanks again for popping in and spending some time with me here. Like always, feel free to leave a general comment, questions, or answer one or more of the questions prompts below.
What assessment tools have you used and LIKED?

What assessment tools have you used and HATED?

What assessment tool do you wish existed, but can't seem to find?

What advice would you give to a new teacher trying to adopt/implement new assessment tools in their teaching?