Assistive Technologies & Methods
(Week 4: Post 1)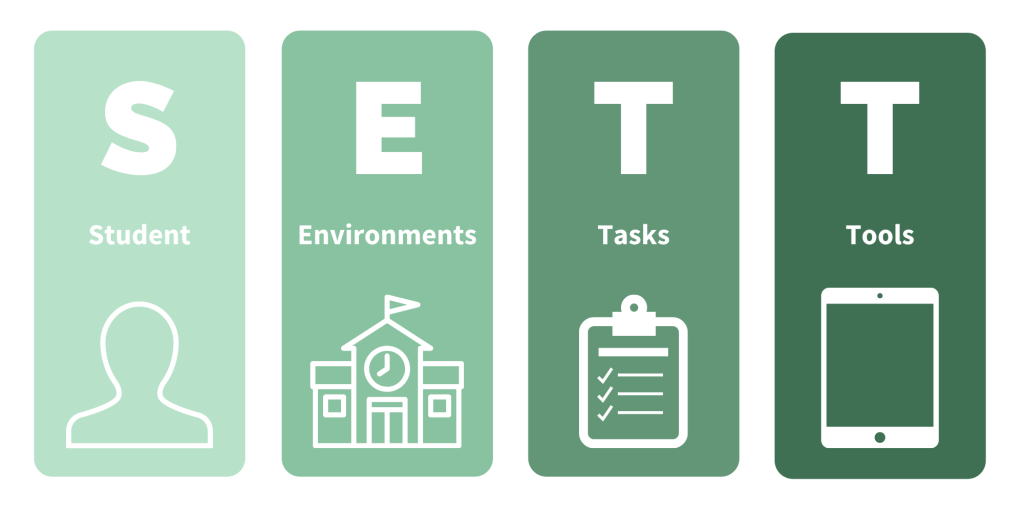 Experiences with Assistive Technology
Daniel, Darcy, Janeen, and Reid walked us through assistive technologies this week, and used breakout rooms in a unique way, by keeping small groups together and moving the facilitators from one group to another. This was interesting in the fact that we could move through content more quickly, and there was time to have discussions in a more condensed way.
Darcy talked about Universal Design, and how this design begins with students in mind. The goal of Universal Design is to eliminate barriers so that all students can be successful in their learning. This led to Janeen talking about assistive technology in the classroom, and we discussed what assistive technology is, what it may look like, and some examples of it. We talked more in-depth about how students and teachers alike were depending on talk-to-text dictation tools to speed up responses and feedback. I also discussed how my students were utilizing the voice note functions as a way of engagement in their learning. Janeen also reminded us of the SETT Framework for assistive technology integration.
Piggybacking off of assistive technology, Reid went more in-depth with wearable technologies and how that may assist in student learning and engagement. A lot of different technologies were mentioned that I had never thought of as wearable technology, however, the first thing I thought of was the microphone I wore around my neck that I depended upon so much this year. Lastly, Daniel discussed how students with exceptionalities often get left behind without the use of assistive technologies and teaching methods, and reminded us of John Spencer's quote "The system should fit the student rather than making the student fit into the system".
There are many assistive technologies and methods I use in my teaching practice, but for the purposes of this blog (and trying to keep it a little more condensed for my fellow readers that probably cringe at the lengths of my posts), I am going to focus on a few that I have focused on this past year.
Text-to-Speech (dictation tools): this was especially helpful for students that had assistive technology provided to them, when they engaged in a project or assignment and working independently. This tool allowed students who were usually not able to record their thoughts on paper, to engage in the learning and feel more independent. I used this tool as well to give student feedback more quickly and while multi-tasking.
Wearable Microphone: although I had a microphone because it was assigned to a specific student with a hearing impairment and auditory processing delay, it was truly a life saver. I found that it not only saved my voice, but students were able to hear me better and more consistently throughout the room. I also think that it helped more learners stay on task, and I was able to get attention and keep it for longer periods of time.
Google Read & Write: this is not only a fantastic tool for students who have learning disabilities, but it is a good tool that I use with the whole group, individuals as well as I build it right into assignments. This tool is great to help students with reading and writing, as well as dictation, etc. I remind students that it is good to listen to their writing to see what sounds off, or maybe where they have missed punctuation. I sell it as a tool that is good for everyone (including teachers) to use regularly.
Voice Notes: although I questioned if this was a good teaching practice, I let my kids leave voice notes for their responses during online learning. Was it tricky to assess their writing? Yes. But were they engaged in the learning? Yes. Therefore, because this allowed students who normally weren't engaging to be present and active learners, I thought that it was more important than being able to assess their writing. It was also a good way to get students speaking and using oral communication which is an outcome that also is just as important.
Connecting Assistive technologies & Methods to Theories
So how does all of this apply to the learning theories we discussed in this course? Well, I think that using assistive technologies fosters more of a constructivist learning theory, as it allows students to engage in their own learning, and to be able to participate in collaboration and sharing. This learning theory also allows students to use other methods than the traditional ones that may be prescribed by a behaviorist or cognitivist approach. Like Universal Design, it's important to have students at the forefront of learning and teaching, and that we need to do a better job of incorporating assistive technologies and teaching methods not only for the students with exceptionalities but for all of our students. I always tell my kiddos that we can always benefit from listening to our written words from someone else speaking (computer or in-person), and it's a great way to fine-tune our writing and hear the readability of our work.
Therefore, I really think that it's important to use accessible technology as much as we possibly can (where it fits and not overdoing it to the point of total and utter confusion). However, I do think that this is an area that I would like to do better in and learn more about. I would also like to see what other people are doing, and how it works for them. I would really like to learn how to implement more assistive technologies and methods into my teaching and would love some feedback and professional development and learning in this area.
I Value Your Feedback, So Let Me Know What You Think!
This is the last formal blog post of this course, but it is a topic that I would love to learn more about and use better in my classroom. If you have a few minutes, let me know what you think. You can leave a general comment, or answer one or as many of the questions below as you would like.
What assistive technologies or methods have you used in your practice?

What are you go-to assistive technologies, and how do you use them as a large group? Small group? Individually?

What advice would you have for someone who is starting to implement and use more assistive technologies in their classrooms.

How do you think we can incorporate more assistive technologies in our schools or workplaces, and how do you think we could better prepare teachers/instructors to use these tools while supporting them through it?