Social Media & Activism
A Shot of Honesty, and Maybe an Espresso Shot Too
It's been a hot minute since I have been on here and written a post, so here we are, back at it! Although I had a million ideas swirling in my head after last class, the stress of not only renovating and moving homes but becoming a landlord as well, has my brain feeling like melted ice cream on a scorching summer day. And to be completely frank, maybe I would have been better organized if we weren't moving next door… yes, I am 1000% serious right now. So although I feel as if I have some great ideas, please bear with me as my ideas may not be as woven as they sometimes might be (or who knows, maybe I'm always this scrambly).
Anyways, before I get writing on what I intend to write on, I want to touch on some of the discussions that we had last class about online social media presence and what that means to me personally. I took time to think long and hard about what my social media presence says about me. I did a quick Google search and realized that there isn't much out there on me that is easily found, except for a few of my grandparent's obituaries and my thesis I wrote a few years ago. Although at first, I felt quite proud of this, I then wondered if Katia's idea of saying nothing on social media is showing compliance instead of using my platform for activism (check out her blog post here). I mulled it over long and hard, and then also came to the conclusion that I haven't been using social media to its full potential, and in fact have been quite aloof from it all in general. As the pandemic seems to be rapidly picking up speed in Saskatchewan, and with the renovations and everything else that I willingly accept to add to my already unbalanced work plate, I have purposefully distanced myself from most social media platforms except for Pinterest for Cricut or work-related ideas, and Twitter as it is a required component for the class. To be completely honest with you, I also probably need to be doing a better job of my Twitter presence for the class as well. Here's to next week and new beginnings… with a few extra shots of espresso.
Online Social Media Activism
The million-dollar question Alec presented this week, "Can online social media activism be meaningful and worthwhile?" Similar to Curtis, I too have been having quite a time finding the answer to this question. Am I thinking too hard about it? Am I looking at a spade when I should be looking for a diamond? And then I think about Gillian and how time and time again she talks about not adding more social media platforms to her plate, to spend more quality time with her family. Even though my rule of thumb is not to post anything on social media that you wouldn't be willing to share with your class, parents/guardians, or extended family, and my social media presence is really lacking, I agree with Victoria in the fact that I think social media can be a good platform to raise awareness and to promote social change, but I worry about some of the misinformation that easily gets spread as well. But what I do know, is that a lot of societal oppressive structures have been questioned during the pandemic that may have not been possible without social media platforms. I was reading an interesting article called The Second Act of Social Media Activism by Jane Hu in The New Yorker and realized the role social media platforms played in the Black Lives Matter movement. Furthermore, Meredith Clark (a professor at the University of Virginia) outlines in the article the impact that social media can make:
In 2014, many people had only a thin sense of how a hashtag could organize actions or establish circles of care. Today, "people understand what it means to use a hashtag," Clark told me. They use "their own social media in a certain way to essentially quiet background noise" and "allow those voices that need to connect with each other the space to do so." The #BlackoutTuesday affair exemplified an increasing awareness of how digital tactics have material consequences.

Meredith Clark
The article goes into further detail and discusses current situations where social media platforms have created activism around the world. So, if you're in the market for an interesting read, this would be the one I suggest.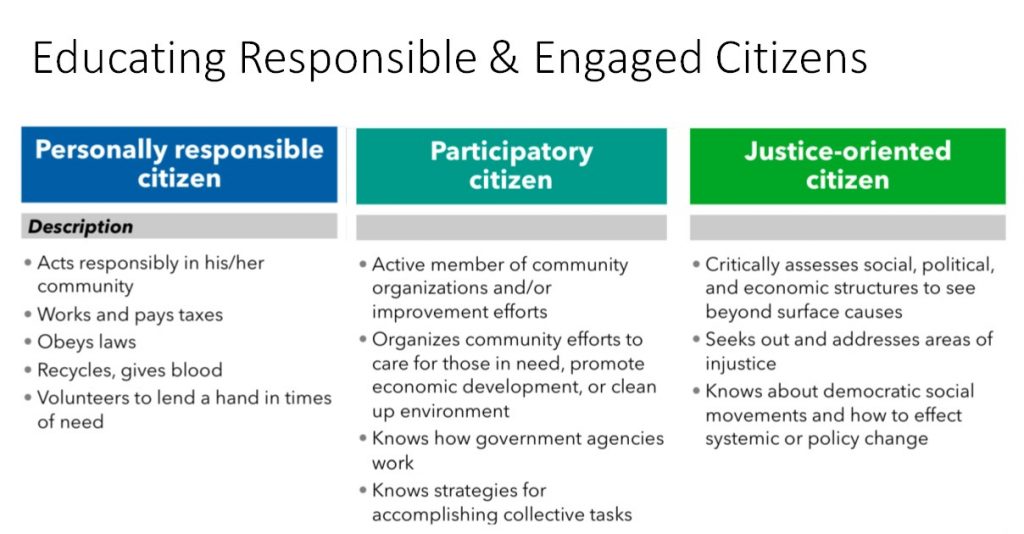 Like Alec discussed in class with Westheimer and Kahne (2004), there are different levels of activism, or created engaged and educated citizens—personally responsible, participatory, and justice-oriented citizens. Working under Dr. Cindy Hanson for my Master's thesis was truly eye-opening for me. She embodies every aspect of being a justice-oriented citizen and always puts her words into action. Among many reasons, it was inspiring to work under someone that was so passionate, brave, intelligent, and overall rounded. She had personal stories to share from her experiences all around the world, and here at home. The work she continues to do alongside others is inspirational. Check out one of her latest research projects here.
So, with that knowledge, I would like to believe that I am at least a participatory citizen, although I know that I am more of a personally responsible citizen (as seen in Table I. Kinds of Citizens). Sooner than later like Leigh, I would like to see myself shift towards more of a participatory citizen and spend some time in that category before eventually becoming more of a justice-oriented citizen. I think what stops me the most is not feeling educated enough, or worried about silencing others when I try to share my ideas. When doing my Adult Education Master's Degree, I realized very quickly that there were many diverse people and experiences around me, and it was more important to listen than to always share as sometimes that silence was either powerful or it was paving the way for others who normally may not speak due to cultural norms or other reasons. Over the years I have tried to get students to be more engaged in participatory action projects and found a really well laid out article to get kiddos started. Also, if you are interested in social action projects but don't know where to start, check out this guide: Social Action Projects—Making a Difference.
Can It Be Meaningful and Worthwhile?
I was aware of the three types of citizens prior to this class, but what I have never thought about was when Alec introduced the idea of Slaktivism, a more passive way (for lack of better words) of liking, sharing, retweeting, using hashtags, signing an online petition, etc. that involves very little commitment. Because it is a low-stakes investment to many, it is not considered to be impactful or meaningful by many critics. Genuine Social Media Activism: A Guide for Going Beyond the Hashtag has some great ideas for using social media to show genuine support for a cause—although they tend to be somewhat business-oriented. The ten tips as outlined in the article are:
Pause and review your social calendar
Listen to what your customers need and feel
Be honest and transparent
Be human
Make your stance clear and firm
Share how you are taking action
Ensure your actions reflect your work culture
Plan for good and bad responses
Diversify and represent
Keep doing the work
Even though it is somewhat business-oriented, there are a lot of good tips to get one thinking more about moving beyond the hashtag and being more genuine when participating in social media activism.
Do I think that it can be meaningful and worthwhile? Of course, I do. However, I also realize that there are a lot of trolls out there that will fight the opposite of what someone else says not because they fundamentally disagree (although I know those people are out there too) but because they like to argue, feel like they are in control, make other people feel small and overall feel powerful. It's not my jam personally, but I can't wrap my head around people that choose to participate in those kinds of behaviours. I also know that there are people out there that are trying to educate people in a nonconfrontational way, or in more of an educational role than a power one. I appreciate those people that are willing and able to stand up for injustices and try to do their part in educating people. With that being said, I am not one to back down when I see or hear something that is unacceptable. However, I haven't used my social media platform to speak out at all, as I haven't really had a significant presence on any of them.
So, I guess it begs to ask the question, can productive conversations about social justice happen online? I think it can and does. With video technology and the ability to meet with platforms such as Zoom, socially just conversations and activism can happen. With COVID-19, I think more people have been able to connect using the internet. The first step to activism is education, and there are still a lot of people that aren't open to listening to alternative perspectives than their own. I think a lot still needs to be done, and obviously not all conversations can be productive, but I think there are many examples of where it has been beneficial and meaningful, thus making it productive.
Modeling Active Citizenship & Educators Roles
I can't say that I have done a great job of modeling active citizenship on my social media platforms. However, I do model it in my classroom with words, actions, assignments, and in other places. I show and tell students my online and social media experiences and warn them of some of the issues that may arise. I also talk about some of the great things that social media and the internet can do for us. The access to information because of globalization has really changed the way that we gain and process information. I can say that I do model some of the active citizenship on social media, as I am very selective of the things that I post on social media and carefully consider my audience and how this may make others feel. Am I too cautious? Probably. Actually… yes. But growing up in the late 1990s and 2000s there was a lot of emphasis placed on online presence and safety.
As an educator, I found the article Why is Social Media Activism Important? as a fitting read. It starts with a brief history of social media activism, why social media makes a good platform for education, the difference between social media activism and performative activism, three tips for effective social media activism, and everyone has a role to play. I appreciated how there were only three tips that are all pretty straightforward. The three tips discussed are:
Check the source
Uplift marginalized voices
The small things matter
These three quick tips are all things that we can share as educators with our students. If we can't all be activists, we can start by giving students opportunities to engage in learning about things that they want to change, injustices, or things they want to learn more about. But overall, I think that we have a huge responsibility to both model and educate our students about online citizenship etiquette. Therefore, as educators, we have an even bigger obligation to conduct ourselves in a professional way online that we would also expect from our students, responsibly, respectfully, critically, and appropriately.
Join the Conversation
Once again, I apologize for dropping the ball and leaving a somewhat delayed response. Even though my brain is still feeling like a discombobulated mess, I think there is a lot to learn about this week's blog prompt. I may not have all of the answers, or really drove the point home today, but I would love to hear a few thoughts on what you think, or what you may have picked up during your research. Feel free to leave a general comment, answer one or more of my prompting questions, or a simple like. Whatever you have the headspace for today, I appreciate it.
What was the most helpful article(s) that you came across when researching this topic?

What do you wish you had more information about?

How do you feel you are doing in terms of your personal social media activism? Or as an educator?

Do you participate in social justice discussions on social media? Why or why not?

Do you have the same expectations for your students or kids online that you have for yourself?

In a perfect world, what would students who are engaged in social media activism look or sound like?