A Brief Overview of the Course
Although I had previously posted quite a lengthy blog post about my course prototype many moons ago, which you can find here, I thought that I would begin this blog post with a short summary of the course prototype that I had blogged about previously. Although the last one was quite lengthy (and I wouldn't be surprised if you cut to the summary at the end), I promise this one will be much shorter.
Because I moved schools after returning from maternity leave and missed the chaos of last year's online learning early on in the pandemic, I wasn't sure what knowledge my kiddos had about digital citizenship and the applications it has on them. However, after briefly polling my students, I realized really quickly that they did not have the learning around digital citizenship yet, and I wanted to ensure that they had some of the tools to be better prepared as they grow older.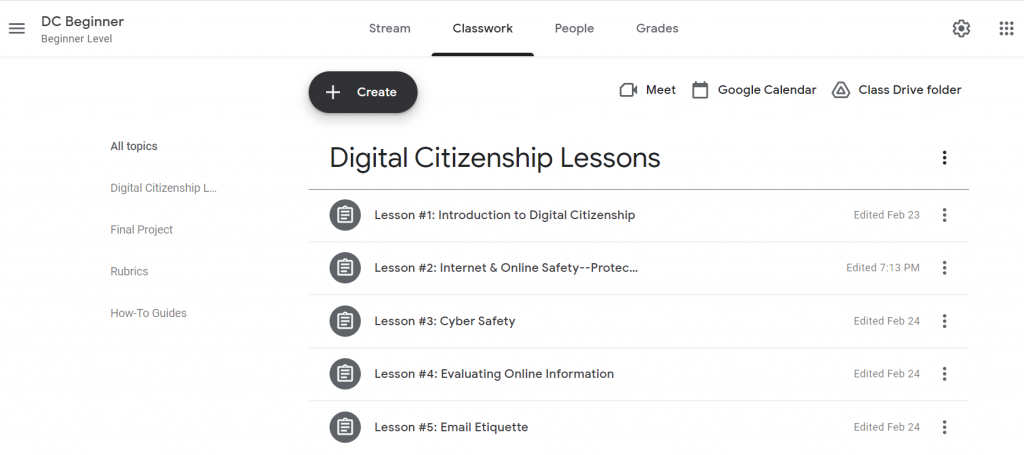 The LMS I chose, is Google Classroom, as my students are familiar with it, and it's something that is pushed in our division. I wanted something that I didn't have to change over once I had already completed making the course. The target audience is for middle school students, and it is not grade specific, therefore, it focuses on where students are at with their learning, and what gaps need to be filled.
There are multiple opportunities for individual, partner (or pair), small group, large group, and individual reflection built into the course. The course also has many different educational technology and teaching tools build into it or planned for the rest of the course lessons that have not been completed as of yet.
Lesson #1: Introduction to Digital Citizenship
Before the first lesson begins, students are asked to create a Flipgrid response to answer the following questions:
1) What do you think digital citizenship means?
2) Have you learned about digital citizenship before? If yes, where?
3) What have you learned about digital citizenship?
4) What do you want to learn about digital citizenship?
From there, students will be walked through the introduction to digital citizenship as a whole group, where they will brainstorm individually the meanings of 'digital' and 'citizenship', and then share their ideas as a whole group. After that, students will watch a short video on digital citizenship, and run through a definition that will be used as a guiding principle for the course.
After students have gained a better understanding of digital citizenship, they will then have an opportunity to turn and talk with a partner to discuss two questions:
1) How did your definition of digital citizenship compare to the definition we discussed?
2) What questions do you still have? Or what information do you hope to learn?
After students have had time to share with a partner, we will share our ideas as a whole group. This is a good time for the teacher to check-in with students and see if they are understanding what has been presented thus far.
If students have a good understanding so far, then the lesson moves onto the 9 elements of digital citizenship, and briefly introduces each element. After the elements have been introduced, students are asked to participate in a Jamboard activity where they have to answer two questions:
1) In this lesson, what are some things that you learned about digital citizenship?
2) What are some things that you want to learn about digital citizenship?
When students have completed their Jambaord activity, they can then move onto the Google Form: Reflections and Summary assessment piece. This check-in form is meant to complete individually to see what the student is or is not understanding, and what teaching needs to be redone, added to, or where the teacher should be moving to next.
At the very end of the presentation, there is a slide that shows students where the course is headed to next to give them a sneak peek at what's to come. You know many classrooms have those students that want to be ahead or know exactly what is being taught next. This may also spark some students to do a little bit of research before the next lesson.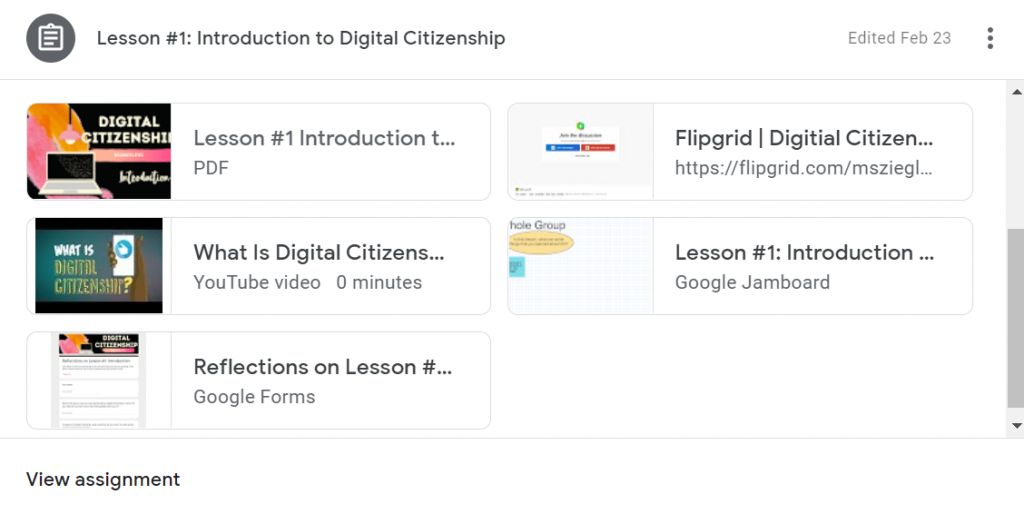 Lesson #2: Internet & Device Safety
In the second lesson, students are asked to make a Padlet response, to answer the following questions: What comes to mind when you see 'internet and device safety'? It can be something that you learned in the past, and seen or heard on TV or in books, or simply what it makes you think of. By giving students many options, those that have trouble coming up with an answer, have some guidance to potentially help them participate better.
After creating a Padlet response, students will then learn about what digital security means, and the difference between personal and private information. Once students have learned the difference, they then will have an opportunity to turn and talk to a partner to reflect on the following questions:
1) Have you ever thought about the information that you are sharing?
2) Have you ever shared private information without thinking about it?
Once students have had a few minutes to reflect on their new learning, they will watch a short video on the difference between personal and private information to really send the message home. The students may want to watch the video twice, as sometimes I find that when watching short videos, it's easy to get caught up in the graphics, voice, or music, rather than whole-heartedly digesting the message.
From there, students will put their learning to the test. First, they will look at the example of 'height' and decide if that is personal or private information. This would be good to have students think by themselves, then share with a partner/small group, and finally take it up as a whole group. Once the teacher feels as if they have a good understanding of the subject matter, they can then work on the worksheet provided to test their learning.
Although it may feel overdone, students will then learn about what powerful passwords are, spotting weak passwords, and the do's and don'ts of making powerful passwords. Finally, as a whole group, students will be given 7 examples of passwords, and they will have to decide which ones are powerful and which ones are not. The teacher could extend this activity, and have students make the weak passwords, powerful.
The lesson concludes by discussing how to keep mobile devices safe and staying secure on a device. Then as a whole group, they will watch a video about digital life and the connections we make.
To summarize individual student learning, students are asked to complete a Google Form to check-in, summarize and reflect on their new learning. I always think this is a great way for teachers to check-in on how students are doing, and if they are understanding the material.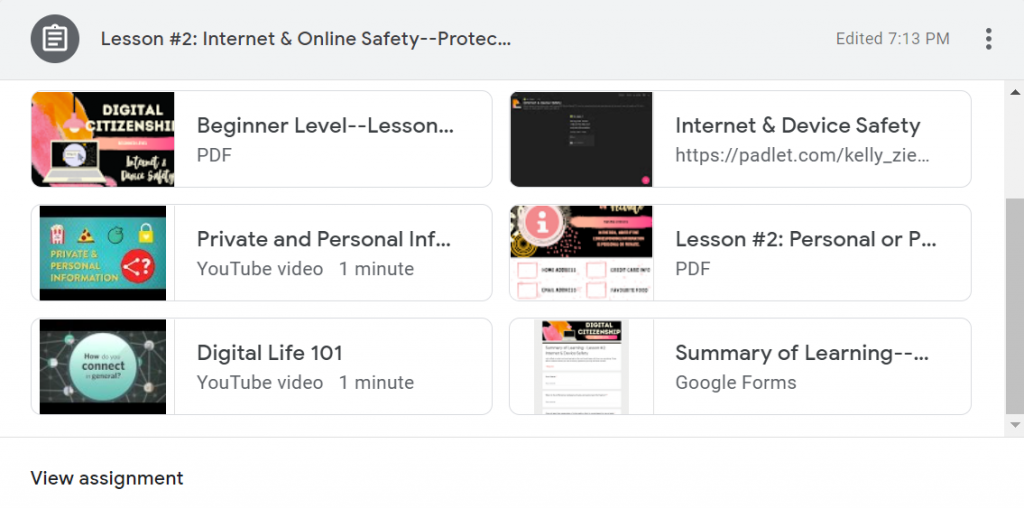 Overcame, and Made Some Gains!
This digital citizenship course so far has been a blast to make. I have been really pushing my boundaries and taking leaps outside of my comfort zone. EC&I 834 has really inspired me to push myself and learn some new things and apply them in real-time, as well as pick up old things that I have filed away in my memory and haven't used for a long time. When peers have shared ideas, I have quickly gone to those sites or tools, and signed-up, quickly realizing that I had already had an account for years!
Although before this course I had never made a Canva presentation (again, another one I have had access to for years and haven't used), I found myself really enjoying the process of making things, trying new configurations, and really just stretching my abilities as much as possible. I give credit to my old computer teacher who had us fully immersed in PowerPoint, as a lot of these presentation tools are oddly similar in many ways. Although I have only created a handful of things now, I want to see where this amazing tool will take me in my teaching. I am very excited that I have access to the educator's account (follow the link to apply), it has been a life c-h-a-n-g-e-r!
I feel as if I also like how I set up my course, more specifically lessons, to provide a balance of individual, partner (or pair work), small group, large group and individual reflecting and critical thinking opportunities. I know that with the many different students that compose our classrooms, there is a lot of diversity and levels of ability. This way, students can feel as if they are contributed in whatever way that they can, and learning can be reinforced in several ways.
Even though many people are not as obsessed with fonts, and matching documents as I am, I am particularly proud of how my lesson presentations match with Google Forms, Rubrics, and even some of the tech tools like Padlet and Flipgrid! This is a win for me, and it makes me feel as if everything fits. Although my documents are aesthetically appealing (or at least they are to me), the content inside of them is what matters the most, and I feel as if I did a good job. Maybe not hitting it out of the park three times in one ball game, but I think it's a win for sure.
A Few Realizations & Maybe Shortfalls?
With every hill there is a valley, or a series of valleys. Although I feel as if I had a few wins, there is also quite a bit that I feel is missing in my course (not to mention the next three lesson and final project). Although I have created teacher lesson plans, I think that I could have also created supplemental notes to go with the presentations so that any teacher would be able to pick this course up and deliver it seamlessly to their students. If time permits, that is something that I would like to do before we have to submit our final projects, as it's definitely something that bothers me.
Google Workplace for Education is something that I use at work every day. Therefore, part of me thinks that I should have maybe branched out more and tried a different LMS. However, I know that I will be using Google Classroom for many years for work, and rather than having to switch my new course from one LMS to Google Classroom, I thought that I would use what I know so that I can actually use it in my classroom. That kind of seems like a scapegoat plan, but I did a lot of thinking and realized that although it may seem shady to some, it was beneficial to me and my teaching career.
I also struggle knowing that I am handing in a course with only two developed lesson plans in it, some how-to guides, and rubrics. At the beginning of this course, I really thought that I would be able to get more done. With a little one at home, working full time, renovating, and juggling all of the demands of teaching and living in a pandemic, I found myself strapped for time to create quality lesson plans to complete the course. Sounds like more excuses doesn't it? Truthfully, it pains me to submit a course that isn't complete. Trust me.
By the same token, I feel as if I could have done a more thorough job of the assessment piece. I did create and include four rubrics, but I think that I could have done a better job of outlining the assessment piece better or shaking things up more. In my original plan, I had planned to use a wide variety of assessment tools. However, I guess I also have to remember that I only have two lessons done, and everything that I had originally planned to do was to encompass five lessons and a final project. I should find my forgiveness and apply it to how I am feeling, although, I know to be better at something I have to continue to have high expectations, reflect often through a critical lens, and make a plan to be better next time.
Overall, sometimes I felt that I may have been repetitive in my lessons, but I know consistency in the middle years is important. I guess in the next three lessons, I can focus on changing some things up more and using other tools that I haven't used yet. I think it's okay to have high mountains to climb, I just need to hit the gym a little bit more first to tackle climbing it all at once.
Overall Reflections
In spite of making gains and having shortfalls, it felt so good to plan a course that I could be using in my teaching and to have guidance along the way. From learning about new educational technology and teaching tools to feedback, and the very interesting chats outside of the EC&I 834 course hours, I felt like the course that I was making mattered, and the work that I was putting into it was noticed (as we all had been putting in a ton of work). I don't view high expectations as being too hard on myself, I see it as an opportunity to grow, learn, and challenge myself in ways that I haven't pushed myself to before.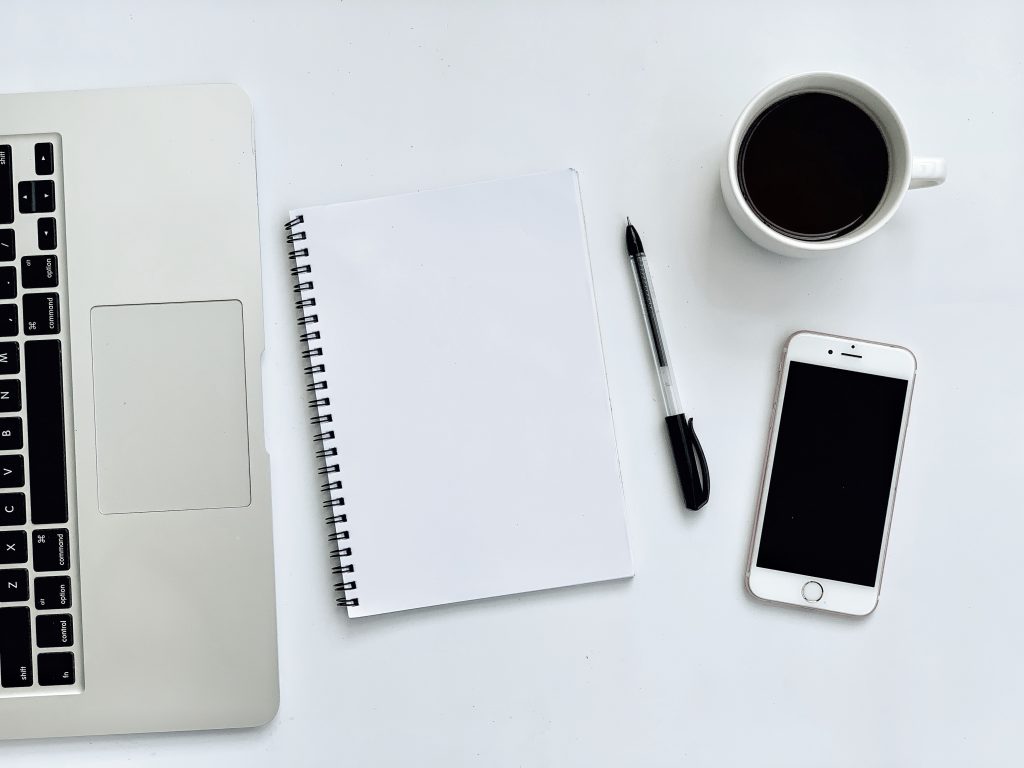 The course I created so far is good. Not great, or excellent, or even something to really call home about. However, I feel okay about it. I feel as if what I am working towards is a starting point, and when I get to the ending point and find another starting point, I will know how to navigate things better (or so I hope). Could I have changed this or that or made it better? For sure. But right now, I am feeling as if I am on track and doing a good job. I am excited to introduce this topic to my kiddos and get them learning content that I know a lot of them haven't learned before. It's always exciting teaching students something brand spanking new, and to see how much they grow because of the new learning and how it applies to their lives.
Always Happy to Hear from Y'all!
Sometimes, I have to remind myself that I talk too much and may steal the spotlight from someone else. So, I would love to hear from you.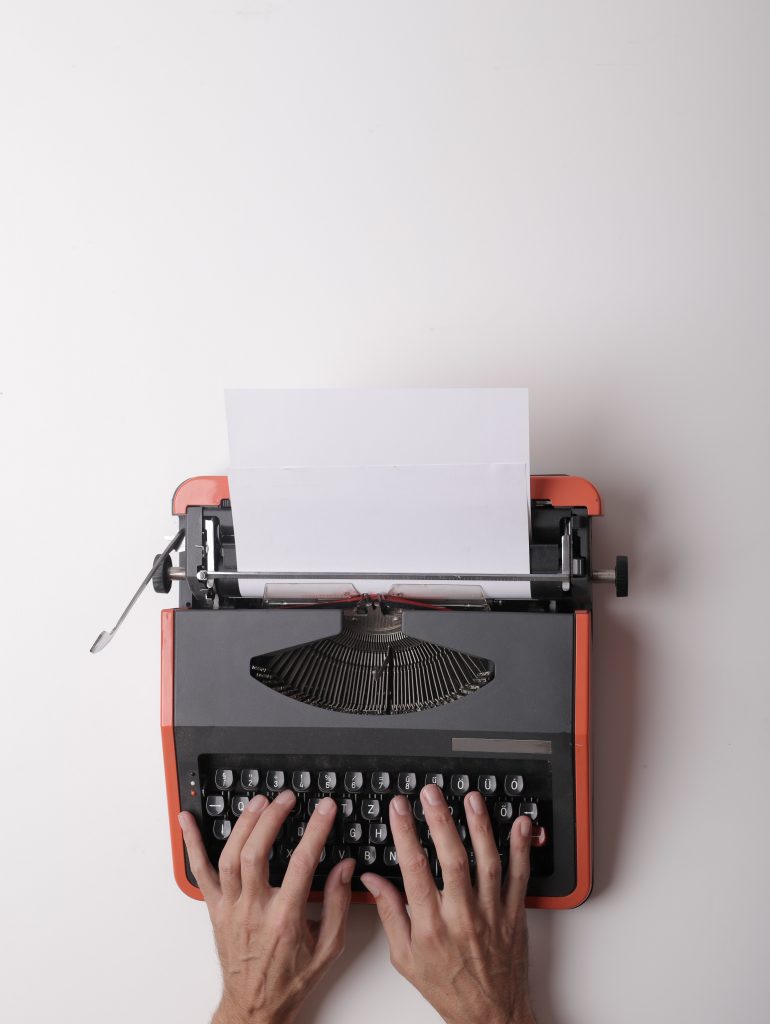 1) What do you think you did well in your course?

2) Did you feel as if you had any shortfalls? If so, what were they?

3) What was something that you had a difficult time wrapping your head around?

4) If you could do something differently next time, what would it be? Why?

5) If you could shake things up more in your course, what would that look like?